Anti-social behaviour
Dealing with anti-social behaviour problems in your area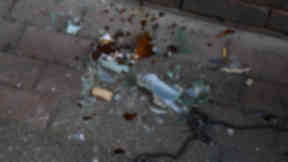 Anti-social behaviour is any form of behaviour which causes, or is likely to cause, alarm or distress to other residents. This can include noise nuisance, threats and disorder which have a detrimental effect on the lives of others.
What can you do?
Speak up! If you're experiencing problems with anti-social behaviour, you should report it – it's the only way the problem will be tackled. Keeping a diary to record incidents, dates and times, will help in providing details to investigators.
Who to contact
You can call the 24-hour anti-social behaviour hotline on 0800 389 1105.
Anti-social behaviour can be reported by using the Anti-social behaviour reporting form on the South Lanarkshire council website.
You will receive acknowledgement of your complaint within three working days, and council staff will interview you within five working days. You should expect to be notified of the outcome of their investigation within 20 working days. These timescales may alter if the matter is urgent or if other agencies are involved.
The Anti-social investigation team will investigate serious problems, working alongside local area housing offices to find solutions.
The team can help mediate between the parties and can take action such as drawing up Acceptable Behaviour Contracts or pursuing Anti-social Behaviour Orders.
You can also contact your local area housing office.
Cambuslang and Rutherglen Housing Area Office
Cambuslang Gate
27 Main Street
Cambuslang
G72 7EX
Tel: 0141 613 5520
Email: housing.rutherglen@southlanarkshire.gov.uk
Mediation
South Lanarkshire Council offers a mediation service for community disputes and anti-social behaviour. It helps people to resolve their differences by communication and clearing up misunderstandings.
The Mediation Service can be contacted on 0141 584 2667 or 0141 584 2665 between 8.45am and 4.45pm, Monday to Friday and a message can be left outside of normal working hours, or by email on mediation.service@southlanarkshire.gov.uk. 
Community Wardens
South Lanarkshire also has 34 community wardens who patrol the region and help alleviate anti-social behaviour. You can reach the community wardens via the Anti-social behaviour hotline - 0800 389 1105.