Pupils go outdoors and others have success at gymnastics competition
SCHOOL NEWS Taylor High pupils have been enjoying some time with nature and building their confidence.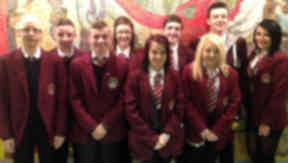 The latest news from Taylor High School.
North Lanarkshire gymnastics championships
The school had a very successful day at the North Lanarkshire gymnastics championships held recently in Wishaw Sports Centre.
Our students will now go on to represent North Lanarkshire at the Scottish Championships in Perth. This was a wonderful achievement and the culmination of months of hard work and dedication in the sport. We wish the competitors the very best of luck in Perth.
Well done to first year students Olivia Brennan, Niamh Smith, Olivia Scanlan, Niamh Duddy, Rebekka Newns, Erin Forsyth, Lauren Maths, Chloe Pratt, Lilly Lowndes and second year pupils Roisin McLaughlin, Paige Docherty, Megan Burns and Courtney Keys.
Outward bound
Selected fourth year pupils recently enjoyed the opportunity to take part in outward bound.
Two groups of Taylor High students joined with pupils from other schools in Loch Eil to take part in a week of activities. All involved showed real courage and determination in the challenges they were set.
Teachers Brendan Reilly and Allison Lamont accompanied the first group of pupils, with Karen Byrne and Paula Gaughan enjoying the opportunity to attend with the second group of participants.
A very well done to students Anthony Blair, Taylor Blair, Lauren Davidson, Megan Davies, Shannon Dunn, Frances Hoey, Gary Quinn, Declan Blythe, Sean Carr, Katie Scott, Caitlin Lang, Chantelle Phairs, Matthew Ruthven, Danielle Brown, Samantha Ferry, Paul Glen, Radka Rodakova, Connor McGurk and Matthew Gallery, who all conducted themselves in a wonderful manner.
Third year immersion choices information meeting
Taylor's third year immersion choices information meeting took place last week. The evening aimed at parents and guardians of the current second year cohort offered the opportunity to visit departments and discuss pupils' subject options as they embark on their third year studies.
The format for the evening included a detailed presentation on the school's proposed curriculum in third year for the forthcoming academic year 2013-14. Pupils and their parents/carers then took the opportunity to visit departments around the school showing the courses available.
The event was well received by all who attended. Thanks go to all staff for their continued hard work and contributions on the evening.
Edinburgh climbing arena
Selected pupils recently enjoyed a climbing activity at Edinburgh International Climbing Arena. Ross Palmer, Steven Barry Ross, John Paul Clarke, Kevin Clarke, Kai Rudzki and James Johnson tackled some very challenging tasks working to develop self - confidence through team building.
Thanks go to home school partnership officer Ian MacFarlane who organised and attended this excursion with our students.
Nil By Mouth workshop
Our third year cohort recently received a presentation from the anti-sectarianism organisation, Nil by Mouth, as part of their personal and social health education.
This was just one of many visiting workshops organised to support our young people in developing knowledge and understanding of health and wellbeing and citizenship through their personal and social health education coursework.
Thanks go to PT pupil support for third year Mrs Louisa McGraw who co-ordinated this visit for our students.
Fifth year prelims and supported study
Students in fifth year are preparing for their prelim exams that take place in February. Mrs Therese Weir, depute head teacher, has prepared a programme of supported study to support pupils as they work to achieve the best possible marks in these exams and in the subsequent SQA exams in May and June.
Second year parents meeting
The second year parents' meeting will take place on Thursday, February 14 from 7pm until 9.30pm.
All parents and carers of students in second year are invited to attend this meeting to receive reports from subject teachers on their children's progress prior to the prelim exams in December.
The stage head for second year is Mrs Therese Weir, DHT and the principal teacher of pupil support is Mrs Ann O'Donnell.
Diary dates
January 31 – Fifth and sixth year prelims begin
February 3 – Catholic Education Sunday
February 3 to 9 – Catholic Education Week
February 7 – Fifth and sixth year prelims end
February 8 – Staff inset day, pupil holiday
February 11 and 12 – Local holidays
February 13 – Ash Wednesday, staff inset day, pupil holiday
February 14 – Second year parents' meeting, 7pm to 9.30pm.