Court rules "famine song" is racist
Donald Findlay QC fails in bid to liken controversial "Famine Song" song to "God Save the Queen" or "Flower of Scotland" as judges rule song racist.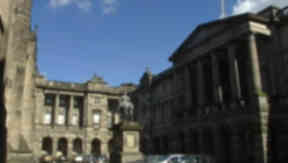 Three judges have ruled that the controversial 'Famine Song' is racist.
The ruling on Friday came as the appeal judges rejected a legal challenge by a Rangers fan who was convicted for breach of the peace for singing the song.
William Walls, 20, was earlier found guilty of singing sectarian songs and shouting religious and racist remarks during the Ibrox side's away game to Kilmarnock on November 9 last year.
But Walls, who denied the offence, appealed against the conviction and his counsel, Donald Findlay QC, argued that this was a country noted for the right to free speech.
It was argued that the 'Famine Song', which contains the chorus "the famine is over, why don't you go home?" was not racist, but an expression of political opinion permitted under the European Convention on Human Rights.
The Justiciary Appeal Court in Edinburgh was told that it was no more racist than lines in 'Flower of Scotland' which bade King Edward to return to England to think again or 'God Save the Queen', with its reference to crushing "rebellious Scots".
But Lord Carloway, who heard the appeal with temporary judges Alastair Dunlop QC and Brian Lockhart QC, said: "The court does not consider that the lyrics of this refrain bear any reasonable comparison to those of 'Flower of Scotland' or indeed 'God Save the Queen'.
"Rather, they are racist in calling upon people native to Scotland to leave the country because of their racial origins. This is a sentiment which....many persons will find offensive."
Lord Carloway added the song, which is banned by Rangers FC, was presumably referring to the Irish potato famine of the 1840s.
Walls, of Cambuskenneth, Glasgow, was put on probation for 18 months and given a two-year football banning order.