Roger Federer in Scotland football strip mystery
Roger Federer has been outed as a die-hard Scotland football fan, after appearing in a full World Cup 1982 strip.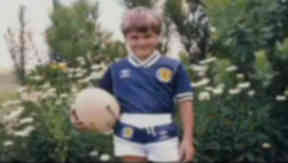 Roger Federer has been outed as a die-hard Scotland football fan.
The world's greatest ever tennis player clearly recognises quality when he sees it, and after one look at the Scotland squad of 1982, Federer apparently demanded a piece of the action.
Here he is, proudly sporting the famous kit, derided by some for its blue "garter" across the groin, but loved by others, including me, thanks a rose-tinted vision of the past.
At first glance the strip looks like the 1982 version, although closer inspection reveals that the Umbro badge is more circa 1986. The piping on the shoulders is also the '86 version, while the collar and cuffs have the '82 stripe. It's a real mystery.
Either way, it's not hard to see why little Roger signed up to the tartan army, with names like Rough, Dalglish, Souness, Brazil, Strachan and Hansen gracing the '82 "We Have a Dream" squad.
We didn't do brilliantly, but Roger didn't mind. Nor did he mind when 1986 squad boasting Malpas, Souness, Strachan, Aitken, McStay, Nicholas, Cooper and Nicol came a cropper in Mexico. He still kept the strip on, day and night.
Seen here somewhat dementedly clutching a rugby ball, he never did quite grasp the intricacies of the beautiful game though. In the end he opted for global domination of tennis.
But, we suspect, he still has that strip lovingly tucked away at the back of a t-shirt drawer somewhere. Maybe this is why he lets Andy Murray beat him all the time.