In full: Proposals made to SFL clubs to allow Rangers into First Division
Clubs received the plans on Wednesday and will be asked to cast their vote on Friday.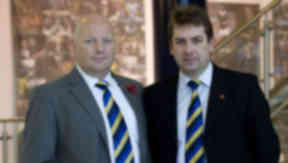 Scottish Football League clubs received proposals from the league board on Wednesday, following negotiations between their chief executive, David Longmuir, and his counterparts at the Scottish FA and Scottish Premier League.
SFL chairmen have been asked to consider the plans and, if in favour, give their vote on Friday to approve them and, in turn, allow Rangers to participate in the First Division in season 2012/13.
The following text is taken verbatim from the proposals as sent to clubs.
Draft Heads of Terms
A) In the event that Sevco Scotland Limited is admitted as Associate Member of Scottish Football League and that Rangers FC shall be directed to play in the First Division of the SFL during season 2012/13 by resolutions approved by general meeting by SFL on Friday 13th July, then the following are to be implemented.
Subject to The Rangers FC plc (in administration) signing a stock transfer in favour of Dundee or Dunfermline FC, a resolution will be tabled to a general meeting of the SPL to approve the registration of the transfer of that share.

A payment of a minimum of £1 million + VAT will be made by the SPL to SFL to purchase the broadcasting and other rights in respect of SFL Division One next season.

A resolution will be tabled to a general meeting to allow for play-offs at end of season 2012/13.

A working party will be formed, including three representatives from both the SPL and SFL, to devise a new structure for the senior professional game in Scotland.
a) The introduction of an enlarged top tier for Scottish Senior Professional Football.
b) A new detailed model for senior professional football in Scotland including number of divisions; number of clubs per division; number of matches per season per division; number of promotion and relegation places per division and the introduction and operation of play-offs.
c)
I) A combined rule book
II) Governance recognising that one league body should have a chairman and two non-executive directors (to be appointed by the board and nominated by a panel with equal representation between i. the top division and ii. the other divisions). Three directors elected by clubs in top division and two directors elected by clubs in remaining divisions.
III) In the event that any change to the rules has any bearing on position rights, divisional structure including promotion and relegation, then any change would require the support of 75% outside of top tier of football clubs.
IV) An all through distribution model, providing certainty for all clubs as to the percentage of distributable income that would be received.
V) An integrated executive.
d) The introduction of a pyramid for Scottish football to provide a route for licensed clubs to enter the new structure effective 2014/2015.
e) The value and number of parachute payments to be made across the new structure.
f) The Scottish FA to invest in a restructuring budget to facilitate the delivery of the above domestic structure.
In the event that a final decision is not reached by 30th November 2012, the Scottish FA will seek to implement a new structure in time for the 2013/2014 season. The members of the working party including Chairman will be announced in the near future and will ensure consultation with all stakeholders prior to final recommendations being made.
These heads of terms are not intended to be a contractual agreement which is legally binding between the parties.