Video in full: SFL announce Rangers will be admitted into Third Division
David Longmuir and Jim Ballantyne speak after Sevco Scotland are voted into the league.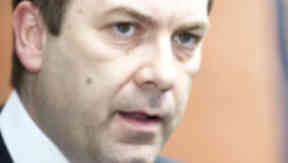 The Scottish Football League voted 25-5 in favour of placing new members Rangers into the Third Division at their meeting on Friday.
Chief executive David Longmuir and president Jim Ballantyne addressed the media after the decision to explain the reasons for admitting Sevco Scotland Limited into the league, and their hopes they will take up the place in the bottom tier.