Aberdeen: Mark McGhee defends Jim Leighton sacking
Aberdeen legend Jim Leighton is left "devastated" as Mark McGhee wields axe in "resource" saving exercise.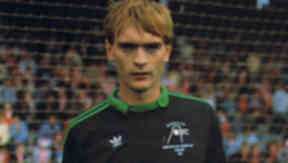 Jim Leighton has spoken of his tears after being sacked from Aberdeen by his old team mate Mark McGhee, who has defended his decision to dump the legend from the club.
The Dons legends were re-united when McGhee took over at the club, but it took just weeks for the new boss to decide that Leighton was a "resource" he couldn't afford.
Leighton reacted: "I'm devastated. I had no idea something like this was going to happen and I have shed a lot of tears.
"It's hard to take in because I love the club and loved the job I was doing. I never thought my time at Aberdeen would end so abruptly this way."
Leighton and McGhee were integral parts of the European Cup Winners' Cup winning team of 1983. The keeper's involvement with Aberdeen has lasted over 30 years.
McGhee defended his decision saying: "I have to try and maximise my resources.
"On the playing side I need to make sure I get value for money and on the backroom staff I have to look at my budget and I have to see what I'm getting for that money.
"In order to do that, I have to bring in people who are multi-tasking. I can't afford to have someone whose specific and only role is a goalkeeping coach. It certainly wasn't any criticism of Jim as a goalkeeping coach."