Darren O'Dea not ready for Celtic return - yet
Centre-half O'Dea wants Tony Mowbray to extend his loan - or offer him first-team football.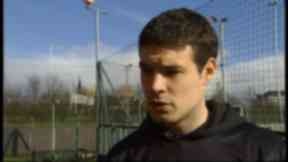 Darren O'Dea has said issued a plea to Tony Mowbray – don't bring me back to Celtic in January.
The defender is currently on loan at Championship side Reading until January 1, but he has said he doesn't want to go back to Parkhead unless it is for first-team football.
"It's between the two clubs to sort out," O'Dea told the Daily Record.
"I don't want to go back to Celtic if I'm going to be sitting on the bench, I don't want to do that anywhere. I'm just delighted to be here for the time being.
"I'd been at Celtic since I was about 14 and that was all I'd known but I've come to Reading and settled in here really well. I feel part of the team here and everyone has been great.
The Republic of Ireland international agreed to a loan switch in order to get more playing time and has made his way into Brendan Roger's plans. O'Dea has also earned his first full cap since the move and has been called up to Giovanni Trappatoni's squad for qualification matches against Bulgaria and Italy.
With an outside chance of travelling to the World Cup with his country it is essential that O'Dea continues to play every week. The 22 year-old has said that he can't afford to be a substitute at this stage in his career and spoke of how well he has settled down south.
"I'm just desperate to play football and I want to play as many games as possible during my time here," he said.
"I really like Reading, it's a nice place and I'm getting to know my way around now so that's good."