Hibs must seize the initiative against weak Old Firm
John Hughes' side have the ability to split Rangers and Celtic and can show their ambition at Ibrox, writes Neil Drysdale.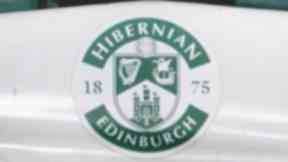 Almost unnoticed, while the Old Firm have been discussing potential moves into the Barclay's Premier League or some new form of Atlantic competitions, Hibernian have made an impressive start to their new campaign under the management of John Hughes. Indeed, despite the breath-taking arrogance of Rangers and Celtic in assuming that their ambitions are being stifled by their allegedly second-rate Scottish rivals, the Leith-based club will climb to the summit of the SPL if they beat Rangers at Ibrox this Sunday.
In years gone by, this might have been simply another false dawn for the Easter Road men, but there is something about this present squad which suggests they might be capable of transcending their achievements in the past five years. They will certainly not be intimidated by travelling to Glasgow, nor should they be, given the shambolic nature of Rangers' second-half collapse in a flurry of self-inflicted wounds, against Unirea Urziceni, following another dismal showing for the Old Firm in Europe this season.
For starters, Hughes himself seems invigorated by returning to his old haunts in the east of Scotland. Whilst at Falkirk, he was praised for introducing a skilful passing game, which weaved pretty patterns, but ultimately, his team was as incapable of scoring as a eunuch in a nunnery, and initial optimism turned into a battle against relegation, which seems destined to be their fate this time around under Eddie May's stewardship. 
In contrast, Hibs has recruited well, bringing in the likes of Anthony Stokes and Liam Miller, whilst Hughes appears to have fathomed that Derek Riordan may occasionally fire blanks, but when he's on song, possesses the ability to trouble any opposition. One suspects that he will be looking forward to testing out the diminishing pace of David Weir this weekend and it wouldn't surprise me if the veteran Rangers defender was in for a fraught afternoon, given how his side have leaked goals – 10 in their last 4 games – even as they have somehow managed to clamber to pole position in the SPL.
Cynics might point out that the aforementioned trio of players have all struggled to cut the mustard at higher-rated organisations, but so what! One of Hibs' strengths thus far has been to find inspiration from a variety of sources, whether in Miller's authoritative direction of the midfield proceedings, or Riordan's capacity for popping up with a crucial goal after being anonymous for 60 or 70 minutes.
In addition, with Merouane Zemmama restored to rude health and blessed with a breadth of vision of trickery, which he has already deployed to positive purpose, Hibs have plenty of attacking options and it is refreshing to hear that Hughes is already committed to chasing a win at Ibrox, rather than following the lead of too many sides by settling for a draw or damage limitation.
On the pitch, they are earning deserved plaudits. Off it, too, their prudent financial dealings offer a worthwhile alternative to the previous "Spend, Spend, Spend" philosophy which has dragged Rangers into the mire during the last 15 years or the penny-pinching frugality which has blighted Celtic's attempts to build on the progress made under Martin O'Neill.
In fact, there is something blackly comical about the bleating which has emanated from the Old Firm in recent weeks.  On the one hand, they claim they need to migrate to a new milieu to gain the capital to become serious forces at European level. On the other hand, they have spent most of the last two decades plucking the best talent away from the likes of Hibs, which explains why the latter have parted company with the likes of Kenny Miller, Gary Caldwell, Scott Brown, Kevin Thomson, Ian Murray and Riordan, even though the latter duo have now returned to their origins.
Yet, although some Hibs supporters have criticised their board for failing to hang on to their crème de la crème, their policy seems increasingly justified. And their chairman and former chief executive, Rod Petrie, has been vindicated in his refusal to be blackmailed into paying salaries which are unaffordable to his leading assets. At the club's most recent AGM, a bullish Petrie declared that Hibs' financial performance over the last five years had been "truly exceptional" and it was nigh on impossible to disagree, particularly when compared to the fiscal dealings which have left Rangers mired in debt.
Thus, when the teams square up at Ibrox, it will be Hughes who can allow his players a licence to thrill. Walter Smith, on the other hand, must be feeling as if his powers of recovery can only extend so far and it might be time to take the long walk towards retirement. None of which means that Rangers can't win the match – of course not – but simply to observe that, in the current climate, it might be the best thing that could happen to Scottish football if Hibs – and Aberdeen & Co – recognised the Old Firm have never been this vulnerable since the early 1980s. Time to strike and seize the initiative!