Manchester United's secret failed move for Larsson
Former Celtic striker Henrik Larsson played on loan at Old Trafford in 2007, but he turned down the chance to play for the Red Devils during his spell in Scotland.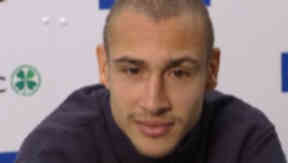 Henrik Larsson fulfilled a dream to play for Manchester United in 2007, but he could have made the switch to Old Trafford eight years earlier if Sir Alex Ferguson had got his way.
Little is known about the English giants' enquiry for the Swedish striker in 1999, but STV footage of the player talking about his Celtic career in 2004 revealed that Larsson knew of United's interest, but declined to discuss a transfer because he was settled in Scotland.
"That's what I heard back then, a long time ago," recalled Larsson of Man Utd's transfer bid. "I don't know when it was, it was my second season or something like that. I had just started to get going again with my football and I didn't want to break that up and start all over again.
"There were teams that were interested in me but I had settled in here after a rough time in Holland and I thought it was better to stay here with my family settled in. I know it hasn't been the wrong decision because Celtic has developed into a really good team.
Despite missing out on the chance to win the Champions League and play on a bigger stage whilst in the prime of his career, Larsson insisted he had no regrets over the opportunity to play alongside David Beckham, Peter Schmeichel et al.
"I don't have any regrets. I am fully aware what they achieved since but that's part of life. If you take a decision I think you shouldn't regret it."
Larsson spent seven years at Celtic from 1997 to 2004, before spending two years in Spain with Barcelona. He then returned to Sweden to play for Helsingborg, but got his chance to turn out for Manchester United in a three-month loan spell in 2007, during which he scored three goals in 13 appearances.
Recognising his contribution to their Premier League win that season, United specially requested a league winner's medal for Larsson, after his failure to meet the normal criteria to qualify for one.