Joey Barton's Rangers future in doubt after training ground row
Experienced midfielder was involved in an incident with team-mate Andy Halliday.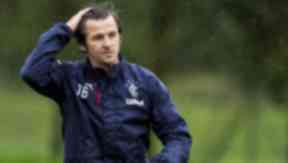 Joey Barton's Rangers future is in doubt after the midfielder was told to stay away from the club's training complex following a bust up with Andy Halliday this week.
The incident, which took place on Tuesday, came in the wake of the 5-1 derby defeat to Celtic and resulted in the midfielder - who was Rangers' most high profile summer recruit - being banished from the training ground until further notice.
It is understood this is not the first time the 33-year-old has caused unrest within the dressing room. The experienced midfielder will not feature in Saturday's Premiership clash with Ross County.
Speaking on Twitter, Barton said: "Obviously after the Old Firm game on Saturday everyone was hurting and in training on Tuesday there was a full and frank discussion about the result and reasons for our loss.
"I, like everyone else, care deeply about the task at hand, which is to restore Rangers Football Club to the top of Scottish football.
"The discussion we had involved some sharp disagreement about the game and some harsh words were said. There were only words involved in the disagreement, nothing else. Nevertheless, some of the words used did overstep the mark.
"As someone who communicates directly, I accept some of the things I said were inappropriate and for that I apologise unreservedly. I cannot, however, apologise for caring deeply about winning and wanting to perform better myself and for Rangers to do much better.
"The manager felt that my words were inappropriate and asked that I take some time out to reflect on what was said. He judged it was best if I didn't report for training until Monday.
"Whilst I don't feel this was necessary I fully respect the manager's decision. I regret what happened and on Monday I will report for training and I will do what it takes to help the team draw a line under it so we can get back to the task at hand."