Football Talk: Leipzig want Dembele, Armstrong the ladies' man
Your daily round up of what's happening across Scotland and beyond.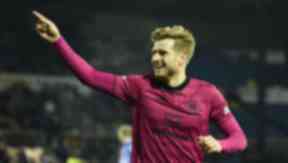 As Celtic limber up for their final Champions League game of the season this week they're faced with yet another club being linked with Moussa Dembele.
It isn't even January yet. This is just the start.
If Stephen McManus had anything to do with it they wouldn't need Dembele though - they wouldn't even need to turn up for their remaining fixtures.
He says the Premiership trophy should be presented to Celtic just now. Ehh, it doesn't quite work like that Mick...
Speaking of Celtic, they hosted a charity evening at the weekend and the guests were treated to Stuart Armstrong's attempts to woo the ladies. All for a good cause of course.
What might not have been a good cause was James Keatings' subjecting his Instagram followers to the sight of him in a dress.
It's the beard that makes it.
Today's top stories
The best of social media
Control yourself ladies...
It strangely works...
No, it's not "just a beard"
Umm...
Woooffft.
The weekend action
Rangers pile the misery on Aberdeen.
All square in Dingwall.
Honours even at New Douglas Park.
Big win for Lee Clark's men.
The beard couldn't guide Caley to a win in Perth.
All your drama...
Today's back pages