Celtic lobby UEFA for 48-team Champions League group stage
Peter Lawwell joined representatives from Ajax and Anderlecht to push for expansion.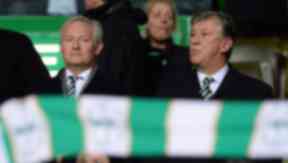 Celtic have lobbied UEFA to expand the Champions League to a 48-team competition.
Chief executive Peter Lawwell flew to Switzerland last week for a meeting with officials, as concerns continue over recent changes to the tournament.
Representatives from Ajax, Anderlecht and PSV Eindhoven also attended to try to head off further moves to alienate clubs from smaller nations.
From 2018 until 2021, 16 clubs from the top four countries - Spain, Germany, England and Italy - will be guaranteed automatic entry to the group stage.
The amount of qualification spots for the group stage available through the "champions path", which teams from outside of the top ten European nations participate in, is believed to be reducing from five to three.
Scotland's Premiership champions will face four qualifying rounds before making the group stage for the three seasons from 2018/19.
The meeting last week came as UEFA start to plan for how the Champions League is formatted from 2021 until 2024.
With reports that the continent's biggest clubs are pushing for a reduction in numbers from 32 to 24, the group tabled alternative proposals to instead increase participating clubs to 48.
Rodgers backs Lawwell to deliver
Celtic boss Brendan Rodgers says Scottish football's best hope for a resolution which keeps the nation's champions involved lies with his chief executive.
"I've spoken to Peter briefly on it," he said. "Firstly, he is in a great position. He's got a great handle on it. His take will always be for the best interests of Celtic and Scottish football.
"He's a great representation for us in Scottish football there. He knows what's taking place and what's happening, and he's hopefully able to influence that for the benefit of the game up here and all the clubs.
"My take on in it is you want the best teams in there and the best clubs. But there also has to be possibilities for nations that maybe don't have the big finances.
"As long as they can go in there and compete, then that's important. I think it's a competition of course you want the best teams in, and the best teams from the majority of the countries."