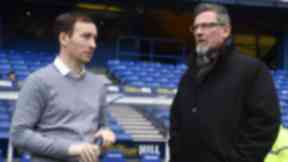 Managerial departures prompt plenty of soul-searching for football clubs as they try to work out the way ahead.
Mark Warburton's Rangers exit and Lee Clark's shock move from Kilmarnock has both clubs rethinking their football structure.
At Ibrox, Stewart Robertson's statement that a director of football was required to make the Ibrox side "a modern club" has caused distress in some quarters.
Traditionally the role acts as a buffer between the board and the boss, allowing the manager more time to concentrate on coaching and less time on scouting and player recruitment.
Ideally the plan is to implement a clear playing and recruitment policy, which is designed to prevent huge upheaval during transfer windows or whenever there's a change of coach.
The game's old guard, comfortable and entrenched in their cliques and clichés, wheeled out time and again to give the same old tired opinions and talk up their mates, are sceptical over the suggestion, worried it may upset the "normal" way of working.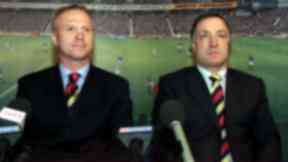 A "strong" manager is what Rangers need, they say. Someone who demands control over all aspects of the club in the mould of Graeme Souness or Walter Smith.
Like so much of the discourse around the Ibrox side, there is an overwhelming desire to seek refuge in the glow of the past.
Cast in the role of bogeyman, some pundits have cast doubt whether some rumoured candidates would lower themselves to work with a director of football.
Sure, Scotland's history with directors of football is chequered to say the least. The Kenny Dalglish and John Barnes experiment is regularly held up as the role's most famous failure.
Rangers of course have had directors of football before with Dick Advocaat working above Alex McLeish, then Gordon Smith with Ally McCoist.
But generally this country has flirted with, rather than fully embraced, the idea.
Why is it a good idea for a modern football club? Let's break it down.
In the past, well-meaning directors chose one man to deliver all the success in the world and if that didn't work they got someone else in. This costly process continued on a loop with no lessons learned from failure.
Outside the Scottish football bubble, clubs realised this costly process was no good and so decided to find people to help run the club for a longer period.
They then went and found a coach who agreed with those principles and tried to win football matches without worrying about the bigger picture.
To advance the point, the Premiership's most high-profile example, Hearts' Craig Levein, identified his key responsibilities as "looking at the whole football strategy of the business" and "getting staff in place and trying to get players in the door".
Southampton, who count Scotsman Ross Wilson among their most trusted staff, rose more than 60 places in the English league system using the structure.
Strong succession planning was put in place to ensure minimal disruption, with success continuing even as Alan Pardew, Nigel Adkins, Mauricio Pochettino, Ronald Koeman and an annual raft of players departed.
January's transfer window saw an influx of players arrive into the Scottish Premiership on a temporary basis, a symptom of the short-term thinking and pressures experienced in the sport.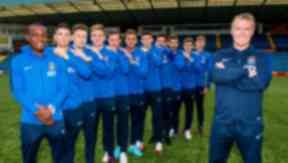 Lee Clark was heavily criticised for his revolving door policy at Rugby Park with Kilmarnock involved in an incredible 45 player transactions since the summer.
His legacy in Ayrshire will be 15 arrivals on loan as well as the £1m sale of Souleymane Coulibaly but a by-product of this policy was a real sense of disconnect between the club and their fans.
It's not hard to see how a director of football could have helped in this scenario.
In contrast Falkirk, the side they beat to a place in this season's top flight, continue to flourish in player development under the watchful eye of Alex Smith while at the same time competing in the higher reaches of the Championship.
If the crowds which roared them on to within 90 minutes of the Premiership are anything to go by, then implementing a clear and concise strategy can help strengthen that crucial bond between club and fans.
One day spent with Saints' Les Reed in 2015 led Gary Neville to confidently proclaim "the era of the gaffer is over".
As Brendan Rodgers acknowledged this week, British football has been slower to adapt than our continental cousins.
Thanks to the stellar work of Monchi, changes in the dugout did not Sevilla's stunning run of five Europa League titles since 2006.
The majority of Bundesliga clubs thrive with former players performing key strategic roles.
Detractors rightly point to a lack of cash within the Scottish game as a key reason for the low uptake and while that may apply to some, many teams could save cash in the long run by making this key position at the heart of their strategy.
"From a supporters' perspective, they can take some comfort from the fact that there is a plan in place and that there could be the odd time that you have to take a step back in order to achieve your plan, but we have very clear goals for where we want this football club to get back to."

Stewart Robertson, Rangers managing director
Outlining Rangers' need for a director of football, Robertson said: "From a supporters' perspective, they can take some comfort from the fact that there is a plan in place and that there could be the odd time that you have to take a step back in order to achieve your plan, but we have very clear goals for where we want this football club to get back to."
It's long been time for Scottish football to embrace change and a large part of that is letting go of the construct of the all-powerful manager.
With the lifespan of a traditional boss on the wane, a sensible structure leads to less upheaval, a strong club identity, staff continuity as well as links between youth and first teams.
Ian Cathro's appointment under the aforementioned Levein at Hearts forced Scottish football to confront the divide between 'Proper Football Men' and those who believe in more contemporary measures.
A similar reluctance to accept directors of football largely based on ignorance would only heighten the sense that the game here is unwilling and unable to move fully into the 21st century.
And so long live the dinosaurs.