McFadden: We still don't know why McGhee was sent off
The assistant manager says the incident has not been explained to the Steelmen.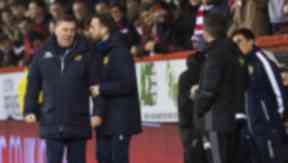 Motherwell's James McFadden says the club are still unaware of why Mark McGhee was sent to the stand during their humiliating midweek defeat to Aberdeen.
The manager was dismissed from the dugout an hour into the 7-2 loss on Wednesday when his side were 4-0 down.
After the match, McGhee lashed out at fourth official John McKendrick, claiming he had "an agenda" against his side and that he was "absolutely disgusted and horrified" at his attitude.
Assistant manager McFadden says he backs McGhee because he does not understand why the incident occurred.
"As far as I was concerned there was no issue in terms of the manager being sent off," he said.
"I don't know why he was sent off, we weren't told why he was. I think he took offence to being told he was sent off and not being given a reason.
"The ref never gave any explanation. There was no indication, certainly from our bench that that was going to happen. That's it and we'll deal with the circumstances that come up."
McGhee also claimed "Before a ball was kicked, he [McKendrick] was causing issues that didn't exist."
McFadden went on to explain another alteration with the fourth official during the match which further angered the manager.
He said: "When the ball went out for a throw-in Derek McInnes claimed for it. He said 'that's embarrassing claiming that' and the fourth official said 'you can't say that to me'.
"The fourth official thought he was talking to him and then had to apologise."