Cowdenbeath's Dean Brett banned over homophobic tweets
The 24-year-old is also being investigated for betting on matches.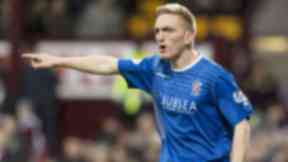 Cowdenbeath player Dean Brett has been banned for four matches for making offensive comments of a discriminatory nature.
The 24-year-old, who is also currently subject to a charge of betting on over 6000 football matches, was found guilty after using the word "f**got" and making other remarks on Twitter between May and November 2016.
Brett will incur a further four-match suspension if he is found guilty of such an offence again before January 2018, or if he fails to attend equality training.
The charge came after "two organisations concerned with equality issues" complained to the Scottish FA, according to his club.
Earlier this week, he admitted using the term but said he did not intend to use it as a homophobic slur.
"It may be another word for gay, but my friends and I have never meant it like that," he told the Scottish Sun.
"The SFA have taken it the wrong way and are trying to make it look like I am homophobic.
"If someone had taken offence, then fair dos. I would apologise to that person and I would accept the complaint. But nobody had taken offence.
"To me it seems that the SFA have just picked up on the tweet and decided to take it from there."
The Edinburgh-born player recently admitted gambling against his own team in eight matches, five of which he played in and could directly influence the result.
Scottish FA rules strictly forbid betting on any football matches. The punishment for betting in a match where a player can play a part in the outcome is likely to be more severe than that for simply placing money on other games.
Brett is currently suspended by Cowdenbeath, pending the outcome of his latest charge.