Celtic goalkeeper rejected emergency loan to Raith 
A deal was done for Logan Bailly but he refused a move to the Championship.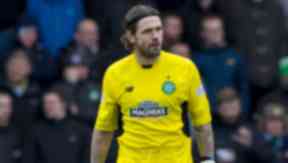 Celtic's Logan Bailly rejected a loan move to help solve Raith Rovers' goalkeeper crisis.
The Championship club had to play attacker Ryan Stevenson in goal in their 1-0 league defeat to Ayr United on Tuesday after failing to get the game called off because of injuries to their three registered keepers.
With Kevin Cuthbert and Aaron Lennox already absent, a weekend injury to Conor Brennan left John Hughes without a fit goalkeeper for the match.
Raith have already used the maximum number of loans this season but SPFL rules allow for a goalkeeper to be brought in on loan under "exceptional circumstances".
STV understands Raith's choice was to go for the Scottish Premiership leader's third choice goalkeeper but he turned them down at the last minute.
Club secretary Eric Drysdale told Raith TV: "Our preference was to find an over-21 goalkeeper with experience and [John Hughes] was on the phone to Brendan Rodgers during the English League Cup final game, he was talking to Brendan and then talking to me.
"Celtic were very helpful to us. A player was put our way. That was to be done on Monday but we were, meanwhile, making enquiries of other clubs and other agents to see, in case this deal fell through, we had somebody else to come in. But the main focus was on this Celtic player.
"Everything was tied up but suddenly the Celtic goalkeeper was non-contactable. John Collins was acting on our behalf trying to speak to the player, trying to persuade him to come down to the Championship.
"But ultimately the player decided he didn't want to do that."
He added: "Unfortunately he didn't decide that until 9pm [on Monday night]. We were working up until 9pm to get it over the line, and it fell through."
Bailly has made just five appearances for Celtic since moving from Belgian side Leuven in the summer of 2015.
The 31-year-old, who has not featured this campaign, is third choice behind Craig Gordon and Dorus de Vries.