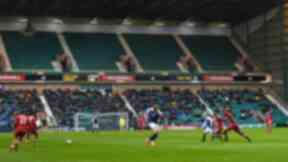 There's a time and a place for pyrotechnics and Wednesday's friendly between Scotland and Canada was one of those perfect occasions.
The loud bangs and clouds of smoke covered up a dismal attendance just four days before one of the most crucial international fixtures for years.
The official crowd was given as 9,150, less than half the Easter Road capacity, with many sceptical over whether that was even close in reality.
The poor crowd wasn't a stand against ticket prices though. It wasn't even an outcry against shambolic results or poor management. It was worse than that. The fans just don't care anymore.
There's no enthusiasm, no excitement, nothing actually encouraging people to go and support their team.
It cost up to £25 for an adult ticket for the Canada match. £25. For a friendly. A number even some of the personnel at the Scottish FA winced at.
And that's not including the train ticket at peak prices, the rush hour traffic through to the far side of the capital or the poor opposition.
Canada sit 117th in the FIFA rankings and offered Scotland nothing in terms of improving their own position in that table. In fact, that result, coupled with a defeat to Slovenia will see Scotland drop out of the top 75 - just shy of our worst ever position of 88th in March 2005.
And then there were the players in show. Gordon Strachan toyed with the idea of naming the team early to help bring in a good crowd. He didn't. And with just one debutant, he must have known the fans would have taken one look and said no thanks.
Tom Cairney was the only fresh face while the likes of Allan McGregor, Charlie Mulgrew and Lee Wallace were utilised for the first time in a while.
Stuart Armstrong, a player who's more than merited his place in the squad and could have staked a claim for a start on Sunday, wasn't given the chance because Strachan wanted to rest the Celtic players who featured on Sunday.
So instead those who turned out were subjected to the same players, the same shape and the same insipid display which has sadly become the hallmark of Strachan's Scotland in recent times.
The national boss continues to stick with the tried and tested, which would be fine if it led to consistent and attractive performances, but it doesn't.
Now let's be honest, attendances are never anything to sing about when it comes to friendlies. Last year's Hampden clash with Denmark only drew in 18,385 and the last one at Easter Road, against Qatar in 2015 only saw 14,270 pay their way in.
But this one spoke volumes of where the supporters stand right now.
The last time Scotland took on Canada Easter Road was close to full capacity. To give it context, Scotland were seven games into Berti Vogts' reign in 2002 and had only won one game. Over 16,000 turned up to the ground that at that time held just over 17,000.
If you think that was a good turnout, in 2010 Scotland's Under 21s attracted over 12,000 to Easter Road for a qualifier against Iceland.
Nowadays our first team struggle to bring in half that.
On Wednesday evening we spoke to the supporters in the capital who braved the cold and subjected themselves to the uninspiring performance, asking why they put themselves through it.
At the same time we also visited the Iron Horse in Glasgow, so often the heart of atmosphere during Scotland games both prior to kick off and during if you didn't have a ticket, to ask fans why they had decided not to go to the game.
The sad reality, however, was looking around the popular pub and being able to count on one hand the supporters who had made the effort to meet friends and watch the game in a social environment.
Scotland have had many do-or-die fixtures in recent years and the build up has been both exciting and nerve wracking. This one is a wet blanket though. It feels like the tournament is already over.
We could move to within a point of second place if we win on Sunday but the atmosphere is unlikely to reflect that.
An optimistic expectation is that 27,000 will venture to Hampden this weekend. Considering this is only the halfway mark in the campaign - and just the second home fixture - let's not think about how low key the first competitive Auld Enemy clash north of the border in almost two decades could be in June.
"We need to do a lot of good things people like to see," said Strachan on Monday. It's a sad reflection of the current state of affairs that these are the dreary words being used by the manager to fire up the nation.