Seven reasons to be a cheerful Scotland supporter now
There's a lot to be optimistic about after the 1-0 win over Slovenia.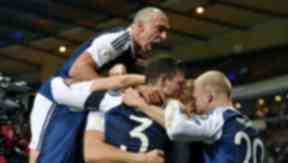 Football is a fickle old game, but when a win feels this good why not revel in it?
Before the weekend we were all looking ahead to the 2018 World Cup qualifier against Slovenia with a sense of doom.
We'd just drawn 1-1 with Canada, the side sitting 50 places below us in the FIFA rankings, in front of a dismal crowd of less than 10,000.
Even the walk to Hampden, ahead of the do-or-die clash with Slovenia, felt subdued. The normal sense of excitement and nervousness was sadly vacant.
Chris Martin's 88th minute winner changed everything though.
When was the last time you watched such an impressive Scotland performance? When was the last time you felt that good celebrating a Scotland goal?
It's been a long, long time since we got to enjoy such a crucial win so let's embrace it and focus on all things positive for a change.
The table looks a lot better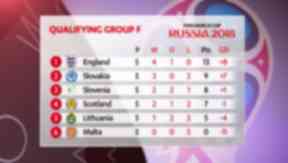 "Second bottom."
"Four points from a possible 12."
"Ahead of only Malta."
No matter what way you worded it, there was no positive spin on the way Group F looked before Sunday evening.
What a difference three points make though. We've now leapfrogged Lithuania and are just two points off the play-off spot.
It's essentially a league within a league now with Scotland competing with Slovenia, Slovakia and Lithuania for that second position.
Super Stuart Armstrong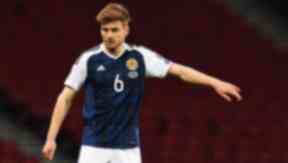 The Celtic midfielder has waited a long time to earn his first Scotland cap but he made sure he did it in style.
Manager Gordon Strachan described Armstrong's debut as possibly the greatest by any player in a Scotland jersey as he helped guide his side to victory.
His outstanding performance was calm, clinical and commanding. He provided the energy and control we've been crying out for behind the striker and in the middle of the attacking three.
Strachan could have played him alongside Scott Brown in a deeper role but his decision to use him further up the pitch paid dividends as Scotland look like a threat going forward.
Food for thought at right back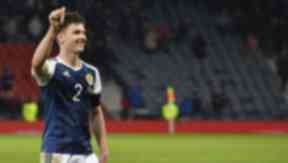 Our lack of natural right backs has been a concerning problem of late, especially with Alan Hutton retiring last year.
Ikechi Anya has been utilised in the role but for a player so desperate to attack it's been glaringly obvious it's not the ideal solution.
Many expected Strachan to opt for Andy Robertson on the more unfamiliar side but after a week of using Kieran Tierney there in training it was the Celtic youngster who got the nod.
He looked far from comfortable in the opening stages, turning his body and using his left foot whenever possible, but he came into the game after the break.
A result and team performance of that magnitude will only develop his confidence playing out of position and while it isn't ideal at least we know he's capable.
A choice of strikers?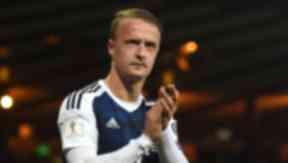 Fine, so we're maybe getting ahead of ourselves a little bit with this one but for once we actually have something to be positive about up front.
Leigh Griffiths, the man the fans have been crying out for, started his second consecutive competitive game for Scotland - his previous being against Belgium in 2013.
He may have missed two sitters, cracking the woodwork on both occasions, but he was unlucky not to finish chances he would normally convert with ease in domestic matches.
Steven Naismith was a suitable like-for-like replacement for Griffiths when he went off injured and Chris Martin, clearly a bone of contention amongst some groups of supporters, silenced his critics with the winning goal.
The play-off table is still alive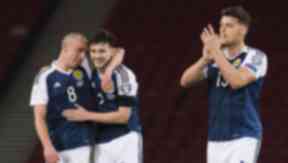 The eight best runners-up will make the play offs at the end of the year, a position Scotland haven't been in since the World Cup qualifiers in 2004 when we lost to the Netherlands.
As it stands, if the table was calculated today, Scotland would be ninth and therefore the only team not good enough to make the play offs.
Typical, we know, but it's not that bad. Honestly.
Our results against Malta are disregarded so we'd currently be bottom due to our bad goal difference. But picking up points against the bigger sides, like Slovenia, is sure to be vital.
Some of the nations also fighting for second spot include Montenegro, a team just three points above us in the FIFA rankings. Northern Ireland, who still have to play world champions, Germany are also in the mix.
Iceland, who have to face rising stars Croatia, who have yet to lose a game, are also competing while Sweden close their qualifying campaign away to the Netherlands, a side desperate not to miss out on two consecutive tournaments.
Our remaining fixtures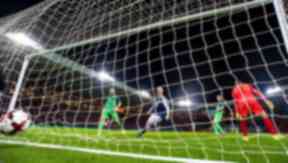 Yes it's only the halfway stage and everyone still has to play each other once more so it's hard to pick out positives but let's break it down.
Scotland have three home fixtures left and two of them are arguably against the strongest teams in the group - England and Slovakia.
Both Slovenia and Slovakia both have to travel to Wembley, a trip we've already got out of the way.
The September double header could also prove to be huge for Scotland as we take on Lithuania and Malta, the two easiest fixtures on paper, within the space of four days.
Win those two and imagine the Slovakia clash at Hampden on October 5?
We're heading up the rankings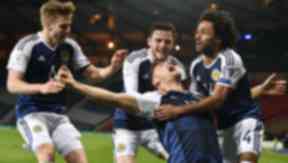 The win over Slovenia and draw against Canada leaves Scotland with the equivalent points to put them 61st in the FIFA rankings.
Assuming other results have all gone in our favour, Strachan's side should jump six places when the next table is published on April 6.
Two wins from two would have seen a marginally better jump, giving Scotland the equivalent points to put them 58th, leapfrogging Slovenia by one place.
But this is indeed better than the pending doom of slipping out of the top 75 - just shy of our worst ever position of 88th in March 2005 - which would have happened had we lost both games last week.