Henry handball aids case for a new video solution to cheating
Borrow an idea from tennis to bring video into the game, argues Fraser Cardow. It would have saved Ireland's World Cup dreams from Thierry Henry's "hand of Frog".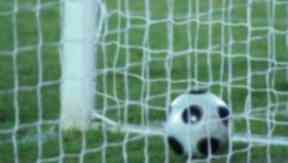 Last night yet another major match was decided by a single moment of cheating as Ireland's World Cup dreams were cruelly brushed away by one deft flick of an Old Master's hand. Thierry Henry pushed the ball onto his sublime boot, and thence to William Gallas, who nodded in the goal which broke Irish hearts and secured Les Bleus a golden ticket to South Africa 2010.
Cue hysteria; cue calls for a replay, Henry's head on a plate, cue a hearty Irish fist shaking at the whole cursed universe. Of course it should never have been allowed. There's nothing more physically gutting in sport than watching your team defeated by a blatant foul, or cheating, depending on how partisan you are.
It was made all the worse that golden boy Henry, looking for all the world as if someone had taped over his Baywatch compilation, immediately admitted his crime as he sat on the pitch with Richard Dunne. Poor Dunne, who was beaten by the Frenchman for the goal, then had to appease Henry's guilty conscience. 
In the aftermath of the match in Paris, the Irish players stood in the tunnel and made shell-shocked and impotent calls for justice; Robbie Keane was incandescent, on the verge of tears.
Sorry guys, there's no going back. Them's the breaks. It happens all the time. In fact it's one of the great tenets of football. The passion that erupts from such blatant unfairness is the other end of the spectrum from the glory of a goal. And let's face it, when you're on the other side of the fence, it's fine to accept that dodgy decision, no questions asked.
But there are ways that we could remove this blight from the game, using video evidence and extra officials. There have been calls for video to be taken into account for years, as is done in rugby. But these calls have got nowhere.
Footballers cheat. It's a fact of the game. Whether for a throw in or a dive for a penalty, footballers will push it. It's all about the sliding scale of righteous indignation i.e. is it your team or not. Reviewing every dubious decision or incident in a football match would mean a four hour slog.
As for extra officials, the Europa League is trialling extra officials behind the goals, which would presumably have solved Ireland's problems, but these are limited trials and they still can't eradicate refereeing mistakes.
So instead of going down the rugby route, which has been tainted by its own blatant cheating scandals of late, what about taking a leaf out of a different sport: what about tennis?
The introduction of the Hawkeye system in tennis means officials can now turn to a computer to check dodgy line-calls. Since 2008 each player has been allowed three unsuccessful challenges per set - if they get the call wrong, they lose a challenge.
In football the same system could be used with each team being given two or three challenges per half or per match. If they, presumably through the team captain, decided that the incident was outrageous enough, then it would go to an independent adjudicator in the form of a television match official (TMO).
TMOs are already widely used in rugby, and successfully so. When officials are tasked with deciding if a try has been touched down under a scrum of bodies, the number of angles which are on offer are impressive enough to make a call and the process is shared with the audience at home and on stadium screens.
It's an enjoyable litle piece of theatre, waiting to see the verdict as the innocent high-five and the guilty trudge backwards, and God knows football could do with a little bit of venom taken out of its sting.
The decision is very rarely debated, since the evidence is there for all to see. There would certainly be judgement calls to make over intent and level of contact, but it would also have an added effect of making players think twice before going in for that swan-dive, or in Henry's case, just a little extra va-va-voom to help the ball on its way.
But does football want to have it's iniquities smoothed out and calmed down? Surely screaming at the ref/ telly/ guilty-sob-who's-ruined-your-life is one of the best footballing releases? Not today, not if you're Irish.