50 years on: The story of how Scotland beat England 3-2
We all know Scotland beat the world champions in 1967 but this is how it unfolded.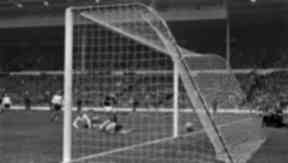 It doesn't matter what age you are, if you're a Scottish football fan you'll know the national team beat the world champions England in 1967.
Of course that in turn made us the unofficial world champions as it was the first time England had been defeated since they lifted the World Cup trophy nine months previous.
But while we all know it happened, not everyone knows the full story.
If you think the current qualifiers are exciting with England in our group imagine having all four of the home nations battling it out against each other.
That's exactly what happened on the road to Euro 1968.
It was the first time group stages had been used to determine who would make the finals of the new tournament.
They'd previously used knockout rounds for the first two competitions in 1960 and 1964 but Scotland hadn't taken part. England took part in the latter, falling at the first hurdle against France.
The Auld Enemy clash was the third of six qualifiers and it was held at Wembley Stadium on this day 50 years ago - April 15, 1967.
The oldest international rivalry in football was watched by a crowd of 99,000 and both sides were going in on good form.
England hadn't lost since the World Cup final, having drawn with USSR and beating both Northern Ireland and Wales in the opening qualifiers. Scotland had opened their campaign with a draw and win over Northern Ireland and Wales respectively.
With a team full of genuine quality and players who have since gained legendary status, England understandably went into the game as favourites. They were on the hunt for their 20th consecutive game without defeat.
But Scotland weren't going to Wembley just to make up the numbers.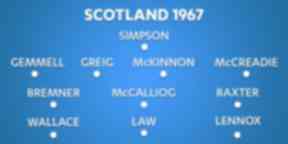 The starting line-up of Simpson, Gemmell, McCreadie, Greig, McKinnon, Baxter, Wallace, Bremner, McCalliog, Law and Lennox included four Celtic players who went on to win the European Cup that year. Two Rangers players, who would play in the European Cup Winners' Cup final the following month, were also included.
This side didn't even have room for Billy McNeill, who couldn't regain his place after a previous injury. Jimmy Johnstone and Bobby Murdoch were also both missing with knocks.
However, despite boasting those greats, Scotland also took a few gambles with their side.
Ronnie Simpson and Jim McCalliog were both handed their debuts. Keeper Simpson, who was a veteran at 36 years old was on a mission to overwrite the memory of Frank Haffey, the last Celtic keeper to play at Wembley, because he let in nine goals on that day.
McCalliog will have heard Gordon Strachan call Stuart Armstrong's Scotland debut last month one of the best in our history, but few can boast they scored the winning goal against the world champions like he did.
And then there's an even more incredible debut when it comes to the man in the hot seat. It was Bobby Brown's first game in charge and considering some of the howler's we've seen in recent years, (Berti Vogts we're looking at you and that 5-0 defeat to France), it was certainly an opener to be proud of.
England, meanwhile, made just one change from the side that won the World Cup. We were taking on the world's finest and it seemed almost a foregone conclusion we would be brushed aside.
But a mix of individual brilliance and solid defensive work made the world stand up and take notice.
Denis Law, who was evidently on a revenge mission after admitting he couldn't bear to watch them clinch the World Cup, bundled home Willie Wallace's rebound on 27 minutes.
Scotland played with freedom. Fullbacks Tommy Gemmell and Eddie McCreadie were allowed room to support wingers Willie Wallace and Bobby Lennox. It was a strong defensive unit as well . Geoff Hurst and Jimmy Greaves' long balls were easily dealt with by John Greig and Ron McKinnon.
It remained 1-0 until the 78th minute when Bobby Lennox struck a low drive into the net but perhaps the biggest turning point was England centre half Jack Charlton staying on the pitch with a broken toe.
It was before the days of substitutes, so he was moved to play up front even though he could barely move. Well, that was until he netted in the 84th minute. Just imagine how dangerous he could have been had he stayed fully fit.
It could have been a nervy end had McCalliog not put the game beyond England with a well-worked debut goal in the 87th minute. Hurst's header seconds later was too little too late for the hosts.
The result will always hold a special place in Scottish football folklore but if you wipe away the dewy-eyed sentimentality, you have to admit it wasn't the most glamorous of games.
Much of the tie was played at walking pace, there was a clear lack of tactics from either side and players were failing to close each other down.
The atmosphere was far from what you'd expect from a fierce and longstanding derby. In fact it was almost nonexistent. and players were putting in tackles that would never be allowed in the modern game.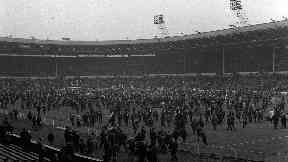 But it did come with its iconic moments. Law's finger-pointing celebration, Baxter's keepy uppies and then there was the pitch invasion at full time. No, not the time the Tartan Army broke the crossbar. That was another victory over England.
Almost inevitably, though, there was disappointment lurking around the corner. Scotland may have won the battle but, like always, they couldn't win the war.
We won the 1967 Home Internationals, the first three games of the qualifiers, but missed out on reaching the knock out stages of Euro 1968 after falling short in the second half of qualifying.
There was still a real achievement in the one-off result though because we'd successfully mounted a serious challenge on a strong side and showed we could compete with the best.
And of course we won the bragging rights.
We might complain about the English going on about 1966 but no one can deny us that moment in our history, even if stealing their title wasn't official.