McGregor: Last Old Firm game was a wake-up call, we will be better
The midfielder says Celtic are out to make amends for draw at Celtic Park in March.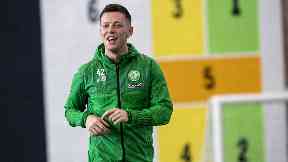 Celtic midfielder Callum McGregor says their draw with Rangers at Celtic Park was a wake-up call, but they are more than ready to face Rangers again.
McGregor admits Rangers have improved under new manager Pedro Caixinha but says Celtic are perfectly prepared to take down their Old Firm rivals at Hampden on Sunday.
He said: "Obviously the manager has come in and got [Rangers] paying a bit more direct and getting the ball forward, so we will need to be ready for that.
"We didn't play well on the day so it just shows you if you are not at it on the day you can be punished, so we need to be fully focused on all our jobs going into the game.
"We certainly have good players but we know they have good players as well, so it is going to come down to, on the day, a bit of luck, who wants it more and ultimately who performs better.
"I think we have to keep our mindset the same as it has been all season; we have had a good week training, so we are certainly looking forward to the game."
The 24-year-old says Celtic must remain fully focused on Sunday.
He added: "We have to take each game as it comes. We know it is going to be a big game, it'll be hard fought and we know we need to be at our very best to go and win it.
"You don't want any distractions going into this game so, as I say, we have prepared well this week and we are fully focused on Sunday itself.
"For us, it's about getting the mindset right and performing well on the day.
"We didn't play particularly well that day so going into the game I think we just had a poor day, lack of concentration in the last 15 minutes or whatever, but it has refocused us for the game on Sunday."
McGregor said having captain Scott Brown back in the squad was a major boost for Celtic and said Brown's leadership qualities will be vital on Sunday.
Brown is available after Celtic appealed the red card given to the midfielder at Ross County following a late challenge on County's Liam Boyle.
He added: "He is massively important, you see every game he is a leader. We are delighted to have him in the game.
"He can steady the boys and get us playing."
The Scottish Cup semi-final on Sunday will be the fifth Old Firm tie of the season.