Rangers quit SPFL Development League to try new approach
The Ibrox club hope games against English and European youth sides will aid young talent.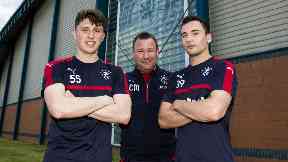 Rangers have been granted permission from the SPFL to pull out of next season's Development League to try a different approach to nurturing young talent.
The Ibrox club intends to pursue a programme of matches against top sides from England and across Europe in a move that has been backed by the SPFL and the Scottish FA.
Rangers youth sides will continue to compete in the Scottish FA Youth Cup and SPFL Challenge Cup but hope that playing against Europe's elite will help young players transition from their academy through to the first team.
Craig Mulholland, head of the Ibrox club's academy, said that bringing a tougher challenge to players at a key age was vital in their development and that "radical" change was necessary for Scottish youth.
"The first step was to acknowledge that, at Rangers, and indeed for Scotland as a country, we must produce a much higher standard of player," he told the club's official website.
"We must accept that for us to become a club renowned for producing elite talent, and for Scotland again to become a top football nation we are required to brave enough to undertake significant change from the way we have developed footballers in the past.
"Our observations and research suggests that young Scottish players between the ages of 15 and 17 are every bit as talented as their peers in other European nations and we believe we must expose them to a challenge and fixtures programme which, not only matches, but exceeds, the quality of provision experienced by their peers in these countries.
"This should, as a minimum, keep their development trajectory in line with these top nations and reduce the drop off figure of 37% for our best potential talent making the transition from Scotland 17's, where we have been successful, to the 21's, who have not qualified for many years"
Mulholland also revealed that the plan included matches against the senrior teams from League One and Two sides and thanked the Scottish FA and SPFL for supporting the new venture.
"Our match programme will be one of the best in Europe and will be attractive and exciting for our best young players," he said. "This will act as a stimulus for them to push their own development on a daily basis.
"We will mix these cross border fixtures at U19/20 level with matches in Scotland against League One and League Two teams. Again this exposure to playing against men will be critical in the development of these player.
"We will also try to play the European matches and the games against Scottish first teams at venues and times which will generate a good crowd as the exposure to playing in front of a large Rangers support will also play an important part in accelerating their progress"