Football Talk: Celtic's £5m boost, Lennon's Rangers dig
Your daily round-up of what's happening in Scotland and beyond.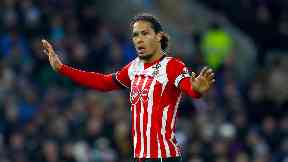 The season may be coming to an end but the war of words is in full flow.
First it was Pedro Caixinha saying Aberdeen were at the wrong end of their "cycle" and would have to improve if they were to keep up with Rangers.
Then it was Derek McInnes hitting back, saying the club should be "embarrassed" they've not finished second this season.
Now Neil Lennon had stuck his oar in and called Caixinha "average to say the least".
Meanwhile, Celtic could be set to receive £5m if Virgil van Dijk's move to Chelsea goes through. Not a bad bonus with the Champions League qualifiers around the corner.
The club are still reportedly prepared to turn down any offers though.
Today's top stories
Last night's action
The best of social media
ICYMI
Today's back pages