Rodgers' revolution has already delivered an incredible year
Brendan Rodgers has rejuvenated Celtic in his first twelve months at the club.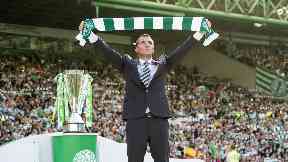 Celtic fans don't have to look for reasons to celebrate right now.
The Premiership title is already in the bag, the League Cup was placed in the trophy cabinet months ago and they boast the newly-crowned player, young player and manager of the year.
Add to that the events to mark half a century since the Lisbon Lions lifting the European Cup and the fact that the club stands on the verge of making history yet again if they can complete an unbeaten league season and a domestic treble in the next week. You would be hard pressed to find a long face anywhere near Parkhead.
The achievements of the 1967 team, as always, stand apart from the rest but the other successes, which have brought Celtic to the brink of an extraordinary season, are underpinned by the arrival of Brendan Rodgers a year ago today.
When Ronny Deila made the honest decision that Celtic couldn't progress further with him at the helm, Rodgers looked initially to be one of the more unlikely bets to step into the Parkhead hotseat. Out of work since leaving Liverpool, the Northern Irishman was assumed to be manager-in-waiting for whichever English Premier League club found themselves in a sticky spot.
Instead, Rodgers found himself arriving in Glasgow to instant acclaim from the Celtic faithful with thousands turning out at the stadium to welcome him and, at the same time, signify the understandable expectation when a high-profile figure joins a club that's already well used to success.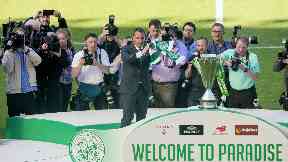 Many would envy a manager taking on a job where it would take a catastrophic collapse to fail to win the league but that would be underestimating the "to do" list that was in Rodgers' in-tray on day one. The league had to be won but he was also tasked with ensuring that the favourites for the domestic cups found themselves at Hampden and won more often than not. A squad that had gone flat had to be re-energised and revamped, a fan base had to be entertained and, crucially, he had to ensure that floodlights and not televisions were being switched on in the East End on Champions League nights.
Faced with these challenges, Rodgers' attitude all season has been to focus on the next challenge and the next improvement so it's unlikely that with two landmark achievements within grasp in the next week, he'll allow himself any time to reflect on 12 months in charge. However, if he takes a quick moment to take stock, it would be hard to argue he'll consider himself to have ticked all the boxes so far.
Granted, seeing an unbeaten run in domestic competition end against Hearts on Sunday or at Hampden against Aberdeen would take a bit of shine off what's been a sparkling season but Rodgers has delivered on his box-office reputation so far.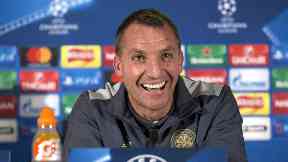 The "Rodgers Revolution" didn't get off to the most auspicious of starts. Eyes on the group stage prize that was still far in the distance, Celtic tripped over the minor bump that was Lincoln Red Imps with a 1-0 defeat in Gibraltar. That setback was easily overcome but in the next round Astana ran Celtic close. A last-minute penalty from Moussa Dembele settled the tie, a key moment and first goal for an exciting prospect who developed from bargain buy to most valuable asset in the space of just a few months.
A tie against Hapoel Be'er Sheva was negotiated to put Celtic back in the big time and as Rodgers delivered proper Champions League football, his team had already begun motoring in domestic football. The matches against the Israeli champions bookended a 4-2 win at St Johnstone before Celtic thumped Aberdeen 4-1 and subjected Rangers to a 5-1 shellacking.
The group stage of Europe's elite competition pitted Rodgers against Barcelona, Manchester City and Borussia Monchengladbach with the first match against the Catalan giants hammering home the gulf between the continent's very best and it's hopefuls. A 7-0 defeat was chastening but the manager acknowledged the difference between the sides and lifted his players again to improve on their performances in the remaining games. A pair of draws against Guardiola's City were the highlights but Celtic bowed out of the competition to resume their pursuit of domestic success having had a reminder of the rewards on offer should they become a consistent Champions League side.
I've played in some great Celtic sides but this one, the team is looking fitter and sharper than it ever has.

Scott Brown
The learning curve of Europe set aside, league and cup football showed the constant improvements Rodgers was bringing to his side.
Tactically, he found a shape that suited his squad and imposed a pressing game that paid dividends. Unlike some, he wasn't wedded to his formation and when changes were made mid-game they tended to be with a willingness to go for the win, as attacking switches against Hearts and Motherwell showed.
The style Rodgers has demanded from his players has required high levels of energy and no observer could question Celtic's levels of fitness. Scott Brown told BBC in April: "I've played in some great Celtic sides but this one, the team is looking fitter and sharper than it ever has."
The squad's condition has been carefully planned with Rodgers consulting his sports science staff on how to peak for the Scottish Cup final immediately after the league was won. Tellingly, results in the league didn't dip as a result with the team scoring 17 goals in four games against top six sides in recent weeks.
Of course, no appraisal of Celtic's success against Scottish competitors can ignore the financial advantage they enjoy but Rodgers can be pleased with how he's used his funds to strengthen.
Dembele, as mentioned, has proven to be an absolute steal. Picked up from Fulham for a six-figure sum, there now look to be only two possible outcomes for Celtic: either to enjoy one of Europe's most promising talents continuing to develop and scoring goals in Scotland or cash in with several bidders driving a cost up to irresistible levels.
Scott Sinclair was the statement signing and has repaid that faith week on week, from a winner on his debut at Tynecastle through to being named as PFA Player of the Year. Kolo Toure was recruited on a free and though he hasn't become a first team mainstay, his experience on the training ground is said to be invaluable to the trio of players being picked ahead of him.
The only possible recruitment failure has been Dorus de Vries, brought to Glasgow as the ball-playing goalkeeper Rodgers felt he needed. The Dutchman didn't hold his place for long but the unexpected benefit was that his arrival drove Craig Gordon's performance levels back to their best.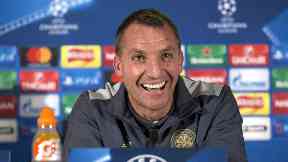 Gordon isn't the only player to have shown improvement after a year working with Rodgers. In fact his influence on the players he inherited may be the best indication of his talents so far. Jozo Simunovic, hours from leaving the club in the summer, now looks the aggressive and capable defender Celtic thought they had bought in the first place. Dedryck Boyata has similarly grown in stature.
Club captain Brown looks five years younger while Stuart Armstrong looks transformed. An inconsistent and frustrating figure is now a driving force, goal threat and inventive presence. Fellow midfielder Callum McGregor is the latest to show a sharp upturn in form, his effervescent performances have seen the uncapped 23-year old talked about as a possible starter for Scotland against England.
The combined effects of Rodgers' tactical tweaks, fitness regime, recruitment and coaching have made Celtic an irresistible force and, as often in football, results have only strengthened his reputation as a leader. Rogic has said that ""the manager has changed the way the club is as a whole" while Armstrong observed that "the influence he has had in a very short space of time is phenomenal."
For Celtic's ambitions in Scottish football and beyond, a year is, as Armstrong says, a very short space of time. Rodgers has had an impact but will now look to the challenges ahead. A Scottish Cup final looms in the short term but then another European challenge comes around quickly. The development of players may mean offers that can't be turned down and more recruitment will have to be done. Inevitably, Celtic will lose a domestic game at some point and there will be setbacks unlike the smooth progress of this year.
As they prepare to look back with pride on the greatest-ever triumph, Celtic fans may already be sensing that the date of Rodgers' arrival will stand as a critical point in the club's modern history.