Losing McInnes 'would have been massive blow', says Milne
The Aberdeen chairman says the manager's decision to stay is positive for Scottish football.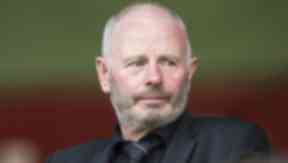 Aberdeen chairman Stewart Milne believes losing Derek McInnes would have been a "massive blow" for the club.
He said the Dons manager's decision to stay sends out a positive message across Scottish football.
McInnes opted to remain at Pittodrie following weeks of speculation linking him to the vacant post at recently relegated Sunderland.
Earlier this week, he and assistant Tony Docherty were given permission to speak to the Black Cats after compensation was agreed between the clubs.
The pair sent shock waves both sides of the border by opting to stay with Aberdeen in the Scottish Premiership.
As well as the decision being an obvious delight to Milne, the chairman claims the rest of Scottish football should be equally as happy.
He told STV: "I think it's a very positive thing, not just for Aberdeen - I think it's a fantastic thing for us - but I think it sends out a very positive message to the rest of Scottish football.
"Having guys like Brendan Rodgers and Derek in Scottish football is a massive thing.
"If we can, along with Celtic and Rangers, start making some inroads back into Europe again then I think we're starting to rebuild the profile of Scottish football."
When asked about the potential of losing McInnes, he added: "It would have been a massive blow for the club.
"It's not just what he's done on the park over the last four years, he's helped us rebuild the whole operation around the football side.
"He's brought a great deal, in almost every aspect of the club, over the last four years that the whole atmosphere throughout the club we've been able to lift.
"Derek has played a big, big part in that."
Despite the relief shown by Milne in the hours after McInnes' decision to remain at Pittodrie, the chairman said he thought the manager's decision would eventually swing in Aberdeen's favour.
He also went on to praise the pair as "one of the best management teams in the UK".
Milne said: "I always thought we'd had a 50/50 chance of keeping Derek and I think the longer our discussions went on, the more I think it moved in our favour.
"Derek's been here four years, he's become very attached to the club, he loves being here, he appreciates the support he gets from the fans.
"I think we've established a very good working relationship over the years and he knew if he was moving away from Aberdeen he was giving up a lot.
"It's fantastic - we've got one of the best management teams in the UK staying with us at the club."