Celtic will not play Linfield in Belfast on July 12
Club chairman Roy McGivern says the game could have an early kick-off a day earlier.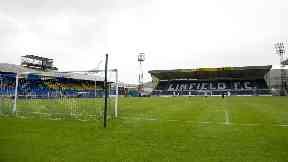 If Celtic face Linfield in the second qualifying round of the Champions League, then the away-leg in Belfast will not take place on the 12th of July.
The match is likely to be played on July 11 with an early kick-off to avoid a clash with Orange Order parades in the city.
Celtic were paired with the Northern Irish champions at the draw in Nyon on Monday. They will meet if Linfield defeat San Marino side La Fiorita in the earlier round.
Blues chairman McGivern said that early talks had taken place with Celtic representatives about the potential tie and said that, for practical reasons, July 12 was not an option.
"From a football point of view it is fantastic," McGivern told The Sun.
"I had lunch with Celtic's representatives after the draw and we've had initial discussions about the games.
"Obviously we have a two-legged tie against La Fiorita first and we won't get ahead of ourselves, but with the second qualifying round so soon after, it is vital to start thinking about arrangements now for a potential blockbuster tie.
"We've also had a chat with UEFA and we had ruled out July 12 for obvious reasons, purely from a practical point of view.
"Our preference is to play the home leg first, for financial reasons that's obvious the best thing for us.
"At this stage the first-leg would be on July 11, potentially with an early kick-off but there are discussions going on at home now with the PSNI [Police Service of Northern Ireland] to see how that would be managed. That is the preferred option.
"Celtic are relaxed about it and they seem happy enough to play in Belfast on July 11."