Defender Efe Ambrose returns to Hibs after going AWOL
The Nigerian's explanation of 'personal reasons' was accepted by the club.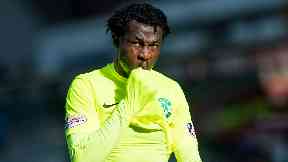 Hibernian manager Neil Lennon has confirmed defender Efe Ambrose has returned to the club following an extended period of absence, with the player saying it was due to "personal reasons".
The Nigerian, who joined Hibs on loan from Celtic last season, was granted an extended break before the start of pre-season.
Lennon revealed last week the player had not yet returned to the club, however, and they had not been able to make contact with him.
Ambrose returned on Thursday and the club have since accepted his full explanation.
"Efe is back," Lennon said. "He was supposed to be in on Monday but he had a bit of a personal issue to attend to so he is back in the building and there was a full explanation for it.
"He may not be ready for Saturday but he should be ready for Ross County game on Friday.
"So that is another body in and the squad are looking excellent, they are in good condition and they have played very well in the three pre-season games."