Celtic fans given seating section for Linfield game
The Parkhead club had not taken up allocation for Belfast game over security concerns.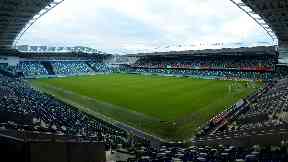 Celtic fans have been given a seating section for their game against Linfield in Belfast despite security concerns.
The Parkhead side are taking on the Belfast outfit in the first leg of their Champions League qualifier on Friday evening.
Ahead of the game, Celtic and the Police Service of Northern Ireland (PSNI) had confirmed the away side would not be taking up their allocation of tickets for the match.
The game had already been moved from Wednesday to Friday as it coincided with the Orange Order marches in Belfast.
A large number of Celtic fans had made the trip across to Northern Ireland, regardless of the lack of away tickets, which prompted the change in stance.
With less five hours to go before the 5pm kick-off, Linfield confirmed Celtic supporters who had purchased home tickets would be allowed into the ground for the match.
The Belfast club said: "Linfield Football Club has worked closely with all relevant authorities to ensure that tonight's Champions League qualifier against Celtic is played in a safe and welcoming environment.
"Both clubs have made public requests that Celtic fans do not purchase tickets for the game. Despite this, some fans may have purchased tickets for the match with the intention of supporting Celtic.
"In this event, they should only proceed to the stadium via the Boucher Road and then, under the instructions of stewards and the PSNI, to the Kop Stand. These supporters should arrive at the stadium after 3.30 pm to ensure access to the game.
"Celtic fans will not be admitted to any other part of the ground and Linfield fans should not enter the stadium from the Boucher Road. No further tickets for tonight's game are available and we would urge all spectators to behave in a respectful and sporting manner."