Neil McCann to ask Dundee chief for help with scouting
Dark Blues boss says he has been working flat out to get players in this summer.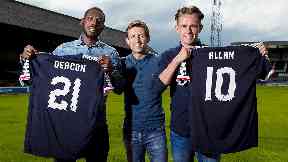 Neil McCann plans to speak to Dundee managing director John Nelms to ensure he has additional help for his next recruitment drive.
The Dens Park club have brought in seven players this summer including Celtic midfielder Scott Allan.
The former TV pundit says he wants to avoid another period of frantic additions by adding to Dundee's limited scouting team.
He said: "It's been a real team effort between the staff this summer. We've all mucked in and done our homework.
"You wouldn't believe the number of hours that have been put into recruitment. It's been extensive.
"So I'm delighted with the guys we've brought in. The offer us something we didn't have. We have two different types now in a lot of key positions."
He added: "But I have to admit the process of identifying guys has been hard, because the club really doesn't have any recruitment system behind it.
"It's something I'll be speaking to our managing director John Nelms about it because it's so important. If you ask any manager, he'll tell you that recruitment is top of the list of priorities.
"So we need help. We have been chasing our tails a bit this time. We need a database so that come January if we want to strengthen, we have a wee list we can choose from rather than running about crazy 24 hours a day taking calls, looking on Wyscout, looking at games."