Tierney: Giving speech in Huddle is every fan's dream
The left back had a night to remember as captain of Celtic against Kilmarnock.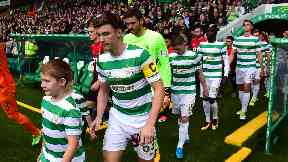 Celtic's Kieran Tierney described his experience of captaining the team in a competitive match as "an honour" and said it was every supporter's dream to lead the side.
The 20-year old took over the armband from suspended Scott Brown and led his team to a 5-0 cup victory, scoring a stunning 40-yard strike to cap a memorable night.
Manager Brendan Rodgers said Tierney had the qualities to succeed Brown as permanent captain of the squad, prompting a modest response from the Scotland international.
"The manager's been brilliant since he came in and to hear that is brilliant for me," Tierney said.
"I just need to keep level-headed, take it as it comes and work hard every single day as always."
The defender, who moved from his usual left back role to the centre of a young defence against Killie, said leading the team was a special moment for him.
He added although he wants to take that role in the future he is still learning from a player he sees as one of the club's greats.
"I think if you asked every Celtic fan in the world if they wanted to be captain then the obvious answer is yes," he added. "But Broony is here for a good few more years yet.
"Walking the team out and giving your speech in the Huddle is every fan's dream. I hope it's not the last time. It's a historic club and it's had some great, great captains.
"Obviously right now is one of the greatest in Scott Brown. I look up to him in every single way. He helps me on and off the pitch every single day and he's just a total leader."
The defender's long-range strike was the pick of Celtic's five goals and Tierney said the positional change had been key to the best goal of his career so far.
He explained: "When you're in the centre of the park it's kind of easier to get a shot away with your left foot. I had a bit of space so I thought 'Why not?'
"I'll maybe not hit another one like that but goals are obviously what you want.
"In the left back role I'm usually up and down the park more but when you're wider you're crossing a lot more and in the centre of the park it's easier to get a shot if you get a bit more time."