Jon Daly: New stand will attract big names to Hearts
The Gorgie club are searching for a new head coach after Ian Cathro's dismissal.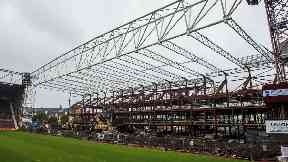 Jon Daly believes the new Tynecastle stand will help attract big names as Hearts look to fill their vacant managerial role.
The former Rangers and Dundee United striker has been filling in as head coach since Ian Cathro was dismissed at the start of August due to bad results.
While Daly has said he would like to keep the job on a permanent basis he is not surprised the likes of former England boss Steve McClaren and Dutch legend Edgar Davids have both been linked with the position.
Daly expects the new-look stadium will make the club an even more attractive place to work.
"The size of the club, the fan base, the new stand, the ambition, it doesn't surprise me there are some experienced managers putting their names in," he said.
"And I imagine there are managers who have jobs who would love this job as well. You're going to have big managers and big names putting their names in.
"The brand new stand will make the stadium even more appealing to play in."
He added: "I thought the stadium, prior, was one of the best stadiums I've played in, as an away venue the atmosphere was always electric so I can only imagine what it's going to be like now.
"All of the structure behind the club points to big names putting their names in for it. I can see why it's an appealing role."
Daly is in his second stint as interim head coach after also stepping in for Robbie Neilson when he left Hearts in 2016.
He is not getting ahead of himself, though, and is happy just to stay at the club regardless of what capacity it is in.
"I just still want to work for Hearts," Daly said. "Whether it's the first team or the under-20s, I'm very happy at the club and I've enjoyed the eight or nine days I've had with the players.
"They look like they're enjoying it and are going to get into it but that comes down to results and performances.
"I'm just told to look after the first team and the moment and that's what I'm enjoying doing."