Transfer Talk: Southampton want Armstrong, Storey for Jags
Your daily round-up of what's happening across Scotland and beyond.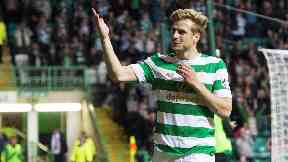 Celtic's success in the last year has brought many a reward but the inevitable downside is that it puts players in the spotlight for others.
The Scottish champions have been trying to nail down Stuart Armstrong after his contributions but the midfielder's rise has been noted by English clubs and one of them could be set to make a move.
Southampton, who have enjoyed shopping in Scotland in recent years, may test Celtic with a bid for Armstrong but Brendan Rodgers will not want to lose a key player.
Aberdeen have finally landed one of their top targets for the summer as Stevie May signed a four-year deal at Pittodrie.
That signing has repercussions within the SPFL as May's arrival prompts the exit of Miles Storey, who is expected to sign for Partick Thistle.
Another exit that has been through the rumour mill more than once is talk of Wes Foderingham leaving Rangers to join former boss Mark Warburton at Nottingham Forest.
Warburton did not confirm the goalkeeper was a target but spoke of his "enormous respect" for Foderingham.
Also in England, Alexis Sanchez is to be offered a huge pay increase by Arsenal to end any talk of him leaving. So that will be that, then.
Top stories
Beyond Scotland
The back pages