Neil Lennon urges players to relish Ibrox 'amphitheatre'
The Hibs boss wants his team to thrive against Rangers as he often did in his playing days.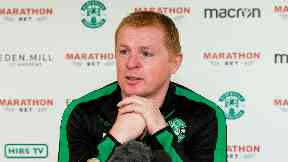 Neil Lennon wants his Hibs players to thrive in the powder keg Ibrox atmosphere just as he did during his playing days.
The Easter Road boss expects a vociferous home support to welcome his side to Glasgow after the two sides' last meeting ended in acrimony when Hibs won the 2016 Scottish Cup in dramatic fashion.
Lennon, who played and managed Rangers' rivals Celtic on numerous occasions at Ibrox, wants his players to relish the occasion on Saturday.
He said: "I thrive on that sort of thing and I want my players to do that as well. I have a lot of good memories playing and managing there.
"It is a great venue, it is a great amphitheatre of football, a great atmosphere and you sink or swim. And I like to think most of the time I swam through it."
Lennon has been the subject of barbs from large parts of the Light Blues support over the years but the Northern Irishman says the comments have often sparked a smile.
"The majority of time you can blank it out or laugh it off," he said.
"You have to find some humour. If you don't have a sense of humour there is no point in being in it. Some of the comments are quite funny.
"We live in a world of social media where people make scathing remarks that are way beyond the pale but a lot are laced with a lot of humour and I find that funny.
"You have to laugh at yourself at times, you can't take yourself too seriously."