Brendan Rodgers targets new striker signing for Celtic
The Celtic boss said he may make a signing ahead of the Champions League play-off.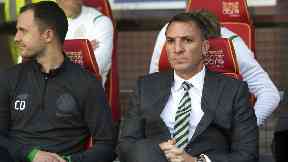 Brendan Rodgers has said that he may sign a new striker ahead of the Champions League play-off against Astana.
Celtic face the Kazakh champions as they aim to reach the group stages but are without Moussa Dembele, who has been sidelined until September.
Leigh Griffiths has ongoing concerns with a calf injury, which meant he started on the bench for the 1-0 win over Partick Thistle on Friday night. Winger James Forrest led the attack again.
After the match, Rodgers admitted he was light up front and said he was working to address the problem, with a new arrival possible being added to the squad in the next few days.
"We wanted Leigh to get 90 minutes in preparation for Astana but his calf played up again and that was always a danger," Rodgers said.
"He felt a tightness after the Kilmarnock game so we assessed it as too big a risk.
"But he felt fine this morning and got his half-hour. We can't afford to take a big risk on Leigh at this time. It is not a frustration, he is just unfortunate.
"I will definitely have to look at it.
"My vision was on having two strikers available and fit and pushing each other.
"But if there is an unavailability and it is consistent then I need to look at it.
"James is doing great playing in there, Tom Rogic has played up there and done brilliant for us but the dynamic of the team is better when you have a number nine who can play the role.
"It is really about the availability of a player.
"We will look to bring in quality if available. Maybe (next week). It is something that we have been working towards in the last few weeks, so there may be something happening."