Football official and MP's 'gypsy' comments probed by SFA
Compliance officer could refer Douglas Ross to a disciplinary panel.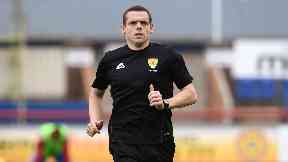 The Scottish FA's compliance officer is looking into comments made by football official and MP Douglas Ross, which could lead to him facing a disciplinary panel.
The Conservative MP for Moray was asked in an interview what he would do if he were prime minister for one day.
His answer, that he would "like to see tougher enforcement against gypsies and travellers", has been brought to the attention of Scottish football's governing body.
As a professional assistant referee, Ross is subject to the same rules as players, managers and others who hold an official position within the game.
The SFA compliance officer will now review the comments and decide if there is a potential breach of the association's rules and refer the matter to an independent panel if he deems it necessary.
A Scottish FA spokesman stressed the organisation's commitment to equality and confirmed the matter had been brought to the compliance officer's attention.
"The Scottish FA is committed to ensuring that football in Scotland is open to all and we wish to reiterate our commitment to our Equality Action Plan," he said.
"As an association we promote the values of equality, inclusion and respect with a view to creating an inclusive and cohesive culture across all levels of our game."
"The comments made by Mr Ross have been brought to the attention of the compliance officer and it would therefore be inappropriate to make further comment at this time."
The compliance officer will consider all of the association's rules but previous cases of a similar nature have centred on rule 73, which covers "of a discriminatory or offensive nature".
Rule 73 states: "No recognised football body, club, official, team official or other member of team staff, player, match official or other person under the jurisdiction of the Scottish FA shall in an interview, a 'blog' on the internet, on a social networking or microblogging site, or in any other manner calculated or likely to lead to publicity, make comment(s) of a discriminatory or offensive nature based on, but not limited to, race, ethnicity, religion, gender, sexual orientation or disability, or that endorse or encourage foul play or violent Conduct or are otherwise offensive.
"There shall be a presumption that any material published in such a manner was published in the name of and/or with the authority of the person or body bearing to have published the material."
Sanctions for breaching the rule can be anything from a £100 fine up to suspension or expulsion from the game.
Ross is a long-standing specialist assistant referee who has officiated at national cup finals and matches at European and international level.
The Scottish Conservatives have declined to comment, referring all queries to the SFA.