In full: Craig Levein's unveiling as new Hearts manager
All the key points as Levein and Ann Budge faced questions on the appointment.
Craig Levein and Hearts owner Ann Budge faced the media after the announcement the club's director of football will move back into the dugout as permanent manager.
Levein will continue to hold responsibility as a director but is stepping back into the front line after a month-long search to find a successor to Ian Cathro, who was sacked at the beginning of August.
The 52-year-old steps back into the hot seat five years after his tenure as Scotland manager came to an end.
Levein has also been manager at Cowdenbeath, Hearts from 2000 to 2004, Leicester City and Dundee United, where he also served as a director while in charge of first team matters.
Budge and Levein answered questions on the recruitment process, the decision to change the structure at the club and how the manager can juggle the day-to-day results business with handling the strategic direction of football at Tynecastle.
Here's the full media conference in full:
Return to the dugout
Why?
CL: Because I was asked and I wanted to do it. It's fairly straightforward.
It's a shift in thinking, you were quite happy to be behind the scenes?
CL: Yeah, as I'm sure some of your next questions will cover, there's a moment when it's right and that moment is now.
The club itself is in a fairly healthy place. My role as a director of football over the last three years has been to build the club back up from where it was to the place where it is just now, which I think is in very good shape. Which means then that it's possible for me to do the two things at once.
Craig, at what point did you realise you wanted to get back into the dugout? Was it in the interview process? Was it after being asked? Is it something you've thought about for a while?
CL: Probably if I explain the background a little bit... When I arrived here three years ago Ann asked me to join the club as director of football. That job then is completely different to the job now.
There was an awful lot of work needed to be done to build the club, build the infrastructure right throughout the club. It wasn't just the football department. The club's in a far better place now than it's been for a long, long time.
As such, a lot of departments in the football department are now run by very, very good people.
Part of this process involved Ann wanting to be absolutely certain that I was capable of doing the two jobs. I think the football department itself is in such a good place that I said: 'I can do that.'
I did it at Dundee United for two-and-a-half years. This was a far, far bigger job to get the club back to where it needed to be so as time wore on I'm starting to think: 'This is looking better, all the departments have got good people in charge.'
That allowed me to start thinking again about whether this was something I wanted to step back into.
It's been a long time since you've been in the dugout. Putting aside everything you've said about the rest of the club and getting it to where you wanted it to be - the extra pressures that come with managing, was that something you had to think about?
CL: As I said to you, as time wore on and everything was starting to run more smoothly, I had thoughts because I missed this.
I missed being out there, I missed the pressure of standing out there being 4-2 down to Hibs with two minutes and injury time to go. I missed that.
That's why I wanted to get back. The two things only coincided and one thing I feel is now I've got responsibility for all the results, not just the defeats. That's a big thing for me.
What would you say to fans that are sceptical about this?
CL: Same thing as to the ones who are happy.
AB: It wouldn't matter who is sitting here, there's no way all of the fans would be happy. I've said before that I don't do social media but I don't think you have to to realise that there's mixed views.
I would simply say look at the track record. Both historically that Craig's had, what we've achieved in the last three years and watch this space.
I've already had quite a number of emails and texts from supporters saying 'Good choice, well done' or 'Brave choice' or whatever so it wouldn't matter who was sitting here.
CL: I believe that. There is no way. We tried Jose Mourinho but he wasn't available.
It's a results business. What are your immediate ambitions?
CL: Just to win games. I know it's going to be tough in the next little while but that's what we need to do.
The transfer window's got a couple of days left to go and we'll maybe manage to do a couple of bits of business before it closes. We're a little light in a couple of areas.
That'll be first priority and the second priority will be winning matches.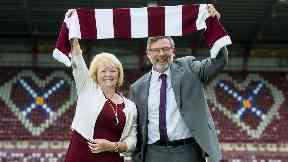 Doing two jobs
Is there a contract in place for how long Craig will remain in the post?
AB: Yes, three years.
Obviously you had the situation with Ian Cathro where things didn't work out. What if something similar happened? Would Craig go back to being director of football?
AB: One of the things I've been giving a lot of thought to is if for whatever reason this didn't work out, would I be in the situation where I didn't only need a new manager but also needed a new director of football?
So it's a serious question and a serious consideration for the club. That whole question has been looked at in terms of 'Is this the right thing for Craig and for the club?' and I'm confident it is.
If things didn't work out, would Craig return to the director of football role?
AB: We would have to look at it, depending on the situation and depending on where we are at that particular point in time.
I think Craig's done an excellent job as director of football and I'm not one to throw the baby out with the bathwater so I would look at the situation that we found ourselves in and try to assess what's right for the club moving forward.
Ann, you've worked closely with Craig over the last three years. Does this change your relationship? Is there a bit of distance now in that sense?
AB: No, I don't believe so because I had a relationship with Robbie and with Ian and indeed with Jon over the last few weeks.
I'll continue that with Craig, albeit I'll be asking slightly different questions but again I think it's really important to remember that Craig continues as a director of the club.
From that perspective, a lot of what we talk about is the direction that the club is moving in. That won't change.
Interview process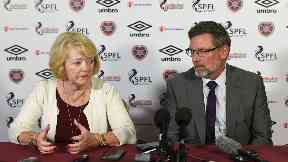 It's four weeks since Ian was sacked here. Do you regret how long it's taken to appoint someone who was in-house all along?
AB: I think if we had made a quick appointment then you and others would have crucified us for not looking and not thinking things through.
There was no need for us to rush. We knew we had four away games and then the international break. I was determined and said several times that I refused to be rushed because it's a big decision.
We were looking at the beginning of the process at bringing in someone from the outside and we looked very seriously at that. We had some absolutely first class candidates and had to give that due consideration.
I suppose the question then would be, if you've been thinking this through, why go through the interview process?
CL: Because nobody asked me if I wanted to do it until after the interview process was done.
AB: We went through the interview process and we were looking for experience. We set out as a board what we felt was needed but I was not thinking 'Oh, we'll just ask Craig to do it' I was looking to see how good a fit we could find.
As the process went through you learn, you're informed, you're talking to other experienced people. We sat down to review everything and said 'Why have we not asked Craig to do this?'
My only reservation was if it was possible to do both because I fundamentally believe in a director of football role.
So I had to be sure myself that it was the right thing for the club and we weren't going to be leaving gaps somewhere else if Craig's focus changed.
As Craig said, we're three years into things and it's not just on the football side. I've recently gone through a full review of how we're running the business and we've changed a few things because we are in a different place now and our objectives and priorities are a bit different.
Coaching set-up and structure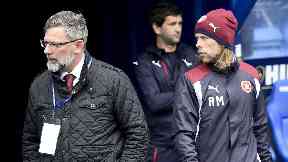 This is a departure from the coaching structure that you set out when you took over. You talked about how you wanted Craig to work with a young coach who would then move on and you'd get another one in. Has that structure been put to one side permanently now?
AB: No.
Would you revisit that?
AB: No. Again we talked at length about whether our original plan, including the role of the director of football and the coach and development of coaches, needed to change. I really don't believe it does need to change.
The situation that we now find ourselves in is that I think with the team of coaches we have, I don't think there could be a better outcome for them. They will continue to be developed and get the opportunity to move on to bigger and better things.
The concept of having a young head coach working under Craig, have you been slightly frightened off that by what happened with Ian Cathro in the last nine months?
AB: One of the things we've talked about at some length over the last couple of weeks is... in fact at the beginning of the process the first thing we looked at was: 'Is it a young coach that we give an opportunity to, or is it experience?'
I think everyone knows we're in a fairly unique situation this year and this season. There's something like nine away games before we play any home games. I was a bit concerned that would be a bit of a poisoned chalice for a young, inexperienced coach.
If you're developing young people then you want to give them a chance to succeed, you don't want to load them with too heavy a challenge.
The first decision we took was that we would go for experience, given everything that was going on and given that our first home game really isn't going to happen until November.
Craig, what will this mean for the four coaches working underneath you? You'll be keen to ensure their development continues. How do you see that going?
CL: Austin will remain as assistant manager. He's away just now so I've only spoken to him on the telephone and not gone into any great detail about how his responsibilities will change.
Each of the coaches will take on a little bit extra, which will allow me to shed some of the things I have as director of football to concentrate on what's happening on a day-to-day basis or on a week-to-week basis for matches.
The coaches will all have one or two little extra things that they need to do.
Austin will remain as the assistant manager, Jon will be the first team coach assisted by Liam Fox. Paul Gallacher's role doesn't change.
You've signed a three-year contract. Is it the plan that after the three years you pass on to one of these guys beneath you?
CL: Listen, this is football. I do believe and would like to put on the record that I think Jon Daly did a fantastic job in the interim period.
To start with two away matches to the Old Firm, I don't think anybody's ever done that.
I know the circumstances are slightly different with the new stand but to have those two games and then Kilmarnock and Motherwell, places where traditionally we drop points or don't do as well as we should do, his points total was very good. I have no doubt that he will go on to be a very successful manager in time.
I think what's really important to get across today is that at this moment in time the club needed stability. I mentioned that Jon was a young coach, it's very difficult for anybody to deal with the away games that we've got. Even our so-called home games are at Murrayfield.
It's November before we're actually playing here and as you know playing here is a huge advantage for us. It was very difficult to foist that upon a young coach.
Overall, Jon's contribution has been excellent and I think he'll go on to be a wonderful manager in the future.