SFA will not take part in review of Rangers' EBT use
The governing body says Scottish football would be harmed by "raking over the coals".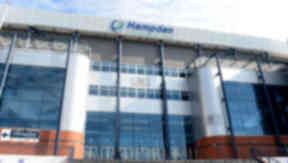 The Scottish FA has informed its member clubs that it will not participate in any independent review into Scottish football's handling of Rangers and the club's use of Employee Benefit Trusts.
The Scottish Professional Football League called for a review in July, following a Supreme Court ruling in HMRC's favour over Rangers oldco and their use of tax-free loans to players and staff between 2001 and 2010.
In a letter sent to all professional clubs, the Scottish FA acknowledged an invitation from the SPFL on behalf of its members, asking it to participate in the independent review.
The governing body said that it was declining the invitation, stating: "The image of the game in Scotland can only be damaged further by 'raking over the coals' of everything that has happened in the last six years for a further lengthy period of time."
Saying that the Scottish FA had acted with integrity and in the best interests of the game at all times, the letter also said that it would be impossible for a review to satisfy "every supporter, every club official and every member club".
However, action may yet be taken by the organisation, with the Scottish FA compliance officer studying testimony from two former directors of Rangers oldco relating to what is known as 'the Wee Tax Case' and whether or not that may have any bearing on the decision to award Rangers a UEFA licence to compete in European competition in 2011.
The Scottish FA letter suggested a discrepancy between testimony given in the appeal and written representation made to the governing body at the time.
Should the compliance officer find cause, action may be taken through the Scottish FA's Judicial Panel Protocol.
In 2013, a commission set up by the SPFL and headed by Lord Nimmo-Smith looked into Rangers' use of EBTs and found a breach of player registration rules. It fined the club £250,000.