Lennon frustrated with Hibernian's lack of cutting edge
The head coach felt his side had the best chances of the 1-1 draw at McDiarmid Park.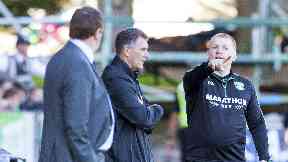 Neil Lennon said he was pleased with his Hibs side's performance in their 1-1 draw at McDiarmid Park but lamented their inability to make the most of their chances.
Michael O'Halloran put St Johnstone ahead and an own goal from Paul Paton gave Hibs their point but the visitors had the best chances with both Simon Murray and Martin Boyle unable to make the most of good opportunities to score.
That left Lennon conflicted, having enjoyed the overall play but once again seeing his side finish with less than what he thought they deserved.
"We totally dominated all aspects of the game today," Lennon said. "It's pretty similar to the way we played at Dundee.
"To come here and play as well as that against a team who are streetwise and battle-hardened - we matched them physically and then the football we played at times was outstanding.
"They don't give much away, St Johnstone, but we had clear-cut opportunities today which pleases me more than anything else.
"The only thing that doesn't please me is we didn't take them."
He added: "That's two games away from home where we've completely dominated the game and the football is good, the style is good.
"We will play worse and win games. It's only one half of football - Hamilton at home - where we haven't reached the standards we set and I'm very very pleased with the standards we've set.
"To be fair to St Johnstone they defend very, very well at times and don't give much away, but today we cut them open at will at times and if we had showed a bit more composure we would have won the game.
"It's just the application and attitude of the players at the moment that is fantastic. I'm very pleased with the level of performance."
St Johnstone boss Tommy Wright saw his side continue their unbeaten start to the league season and his view was the opposite of Lennon's. The manager was content with the draw but felt his team were far from at their best.
"I'm happy to get a point, not happy with the performance," he said. "Twenty minutes in, we started like a house on fire and looked a real threat, but struggled the rest of the game.
"There's not many teams in the league that would get a point out of that."