Caixinha: Morelos is targeting 25 goals this season
The Rangers striker scored a double as his side defeated Dundee 4-1 at Ibrox.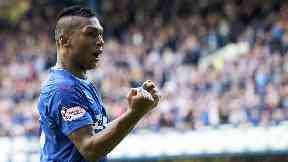 Rangers manager Pedro Caixinha watched Alfredo Morelos score his sixth and seventh goals of the season and said the Colombian is aiming to get 25 this season.
Morelos arrives from HJK Helsinki in the summer as a relative unknown but has quickly established himself in Rangers' new-look side.
Caixinha said the 21-year old was hungry for success and working hard to improve, adding that he would help the player develop and achieve his aims.
Asked if Morelos could score 25 goals this season, the Rangers manager said: "So far he has five in the league. It's early in the season but I know that he wants that.
"We are working with him. He's a young boy. He's keen to learn and always listens.
"He is getting his English better to understand the others. I can speak Spanish, so it's easy for me to communicate with him and let him understand what we want.
"So give him time to learn and build his confidence. He has the tools.
"He's a goalscorer, definitely, but we want more from him. We will help him get better like we help all the players."
Alongside Morelos' double, Josh Windass and Carlos Pena were also on the scoresheet and Caixinha praised his side's style.
"I think the boys did really well," he said. "We had a lot of chances and played some good football.
"We reorganised things at half-time to look for more goals and the second goal calmed down the team.
"The team are getting more confidence with the second straight victory in the league. It was also good for the confidence of Carlos to score his first goal."