Faddy's French fairytale: The day the beers went flying
It's 10 years since James McFadden secured Scotland's 1-0 win against France.
If you don't remember the words "Pick it out, Landreau" you're probably too young to remember the wonder-strike that led to them.
Which is a shame, because it was arguably the greatest moment in the last 20 years of following Scotland.
Arguably? Who are we kidding. Without a doubt.
"There were limbs everywhere."
"We were soaked in beer."
"I ended up half a dozen rows further forward than I was before it."
Younger supporters, the generation that's still to see us qualify for a major tournament, regularly complain we've been deprived of glory.
Same old Scotland, glorious failure, always building you up to crush you in the end... yes that may be true for the majority of the last two decades, but ten years ago today it was different.
James McFadden thought "Why not?" and struck a 40-yard screamer against one of the greatest sides in the world to win the game.
We were in Paris, on France's own patch. They were top of our qualifying group. We had no right to go there and beat them, but sometimes stats, form and bookies odds count for nothing.
On September 12, 2007 Alex McLeish named his starting line-up: Gordon, Hutton, McManus, Weir, Alexander, McCulloch, Ferguson, Fletcher, Brown, Hartley and McFadden.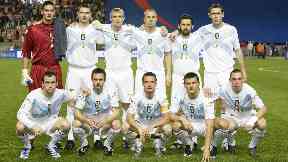 And while one man will forever be remembered as the match-winner, it was teamwork and collective heroics that sealed the points that night.
Scotland were second in the table, splitting giants France and Italy with eight games played and four remaining. We had one of the hardest groups imaginable but remarkably our Euro 2008 dream was well and truly alive and kicking.
We were all daring to dream, but we also remembered what happened at Hampden 11 months previously.
Yes, Scotland beat France by the same scoreline but every fan in the ground that evening mentally kicked every ball in the last half hour, desperately holding onto the unexpected lead and willing the full-time whistle.
We didn't expect lightning to strike twice.
We've had our fair share of carnage celebrations over the years. Leigh Griffiths against England, Chris Martin against Slovenia, Steven Naismith against Spain, Barry Ferguson against Italy and, dare we say it... Stephen McManus against Liechtenstein. But there was something special about McFadden's against France.
Type his name into YouTube and it's the first thing that comes up. Delve deeper into the archives and you'll find just how much it meant to everyone.
Peter Martin's "long way out, ahh what a strike" commentary from Radio Clyde 1's live coverage, Gordon McQueen's reaction on Sky Sports, the Tartan Army spread out across the Parc des Princes - taking up at least half of the allocation - and the incredible march to the ground before a ball had even been kicked.
And then there was everyone else watching at home and in pubs whose memories are just as special as those inside the ground that night.
"I was in a pub in Alloa," Scotland fan Stephen Louch recalled. "My mate jumped on a table and wiped out every drink on it."
"I watched it in a pub in Barrow in Furness whilst working there," said another fan, Graeme Oliver. "We were given a tiny TV in the corner to watch it while the England game was on the big screen. When Faddy scored our table of drinks went everywhere."
Supporter Temmy Mack was in Walkbout in Edinburgh. "I remember the place was wall to wall pinned and it rained beer when Faddy scored," he said.
Some fans were left speechless though. "I was in my house watching it with my family," John Blaesdale remembered. "When Faddy's shot hit the net, it took me a good few seconds to cheer because I literally couldn't believe we had scored."
"The place was wall to wall pinned and it rained beer when Faddy scored."

Temmy Mack, Scotland fan
Gary Warwick described what it felt like to be in the Scotland end that evening, saying: "I was thinking I was nuts for paying £82 for a ticket but in the end it was worth every penny. I remember the ball taking off from Faddy's foot and we all watched it fly in, but there was a strange moment of shock before everyone erupted into celebration."
We may not have qualified in the end and many will say it meant nothing in the long run, but no-one can take away the joy, pride and shock that everyone experienced that night, to the extent we're still talking about it ten years on.
Supporters have written songs about the goal, the march to the stadium is still fondly remembered as one of the greatest memories away from home and for many supporters it sparked the start of something even more special - the tradition of following Scotland around the world.
"It was my first away game and the only away game I've been to with my dad," Tartan Army member Graeme Shinnie said. "On the Metro after the game I said to him, we might as well not go to another away game because it will never get better than that. 39 away games later, it's proven to be true."
Lee McCulloch and Kris Boyd tried to recreate McFadden's goal for an STV Sport feature last year and the Kilmarnock boss said afterwards it brought back the buzz of big Scotland games.
Both players took part in that campaign, and hit their own crucial strikes as well.
Admit it, we thought we were going to win Euro 2008, never mind qualify, when McCulloch scored against Ukraine at home.
But the former team mates' inability to replicate that stunning strike shows it really was a once-in-a-lifetime moment.
It may not have led to Euro 2008 but until we qualify for a tournament it will continue to be one of the most iconic moments in our recent history.
To paraphrase Norwegian TV commentator Bjorge Lillelien the day his nation beat England: "Joan of Arc, Coco Chanel, Napoleon Bonaparte, Brigitte Bardot... your boys took one hell of a beating."