Stewart Regan explains SFA decision on independent review
The Hampden chief executive says the Scottish FA is "very comfortable" with its decision.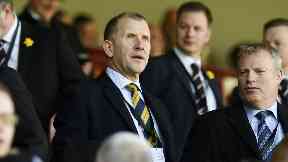 Scottish FA chief executive Stewart Regan has defended the organisation's decision not to participate in an independent review of their governance of the Rangers case.
The SPFL had invited the Scottish FA to join them in setting up a review of how both bodies handled Rangers use of Employee Benefits Trusts and subsequent events at Ibrox.
Regan said that the board at Hampden had undertaken legal advice "at every step of the way" and that changes had been made to their structure and disciplinary procedures over the last five years.
Though Celtic issued a statement and copies of correspondence with the Scottish FA that detailed their desire for a comprehensive review, Regan stated that since writing to all member clubs to inform them of the decision he had not received "a single phone call, e-mail or letter" asking for an explanation.
In an interview with STV's Grant Russell, Regan discussed the rationale behind the decision, his perception of the clubs' will and his own conduct in dealing with the Rangers crisis.
Explaining the Scottish FA decision
Grant Russell: Why are the SFA rejecting pretty big calls for a review into what happened several years ago?
Stewart Regan: Since 2011 we have made major changes to the Scottish FA's governance. We have introduced independence and it's at the heart of everything we do.
We have two independent directors on our board, an independent judicial system and we have had the advice of four QCs and three law lords all the way along the line. So no decision has been made without a high degree of independent scrutiny.
We are of the mind that it is time to stop looking in the rear view mirror and start looking on the road ahead to try and deal with some of the opportunities that are coming our way.
GR: So presumably you disagree with Peter Lawwell's letter which said "information has come to light which raise very important issues for the game in Scotland"?
SR: No, no, on the contrary I have replied to Peter and I have said that as far as the information that has came to light for what is known as the 'Wee Tax Case' we have actually taken that on board and suggestions that information that was disclosed during the Craig Whyte hearing could have actually linked to Rangers allegedly misleading the Scottish FA when the licensing decision was made we have opened that up through the compliance officer and it is now a live case.
GR: Celtic say they want an independent review. The SPFL, on behalf of the clubs want an independent review. What gives the SFA the right to reject calls for a review?
SR: Well, the SPFL board are a group of individuals representing 42 clubs. Those 42 clubs are part of the Scottish FA and our board, of which I am the chief exec, has also considered the matter and it is our belief that, for the reasons that I outlined earlier, it is now time to draw a line under this whole affair and try and look forward to the opportunities ahead.
I decided last week to write to all 108 members of the Scottish FA to ask if any club wanted to discuss this matter and discuss the Scottish FA's decision.
I haven't had a single phone call, e-mail or letter asking me to do that and that implies that the membership have considered the Scottish FA board's decision and are content to leave the decision with us.
GR: The position of the clubs has not changed- they want a review.
SR: I can't comment on the consultation or process that the SPFL went through before they sent their letter, maybe that's a comment for them, but what I would say is that we have written to all our members to give them the opportunity to comment on this having explained the decision that we have made, and we are very comfortable with that decision.
On the purpose of an independent review
GR: Everything that has been done so far has been taking a look at yourself as an organisation. There's been some degree of independence in that but is there not something to be said, when we have clubs saying they still want further reviews, to just open that up and have an independent review to draw a line under it?
SR: We are the masters of independent reviews, having done a number of them in the last few years. We've got the historical child sex abuse [review] going on right now, the Lord Nimmo Smith independent review and the SPFL have done their own independent reviews as well.
So we know a little bit about them.
Normally, there is an incident or an issue that you review. In this case you're talking about a series of events over a five-year period.
So you've got to ask yourself 'What are you reviewing? What exactly are you reviewing?' because each of the incidents we have dealt with and come to a conclusion supported by legal advice and scrutiny.
We feel we've done just that. On the way there have been lessons learned. We've put in place the change of control certificate if a club is sold from one owner to another. We've bolstered the duty of good faith. We've put in improvements to the PGB and the Non-PGB boards and an independent judicial system.
Our clubs have helped make those improvements through our rules revision process as we've gone through the last five years.
So we've made so many changes that we actually think that having an independent review into an undefined set of circumstances is a big challenge.
GR: Peter Lawwell says he wants everyone to get together and discuss what the scope would be. Is that not the opportunity to sit and say 'There is no scope' if that's your point of view?
SR: Well, we've actually had that discussion as a board. We've come to a conclusion as a board that we've made a number of changes in the last five years and we've asked our members what they think and given them the rationale for the decision that we've made. We haven't had any feedback.
The board are very comfortable with the decision that's been arrived at.
"The board are very comfortable with the decision that's been arrived at."

Stewart Regan
GR: Are you completely satisfied that every possible aspect of this has been ticked off by what the SFA have done so far?
SR: We've had independent legal advice at every step of the way. In the case of the 'Big Tax Case' which was one of the points mentioned in the recent correspondence, we actually had senior legal counsel sat in the boardroom with our board, going through the legal advice.
We understood the legal technicalities and we've decided, having had that legal advice, that there was nowhere further for us to go.
We're very, very confident that we've explored, with legal advice, the issues on the table.
GR: Celtic say they want it to be about the governance and the way the decisions were made. When have the SFA ever looked at themselves in this matter?
SR: I'll take you back to Henry McLeish's review in 2011. He made 103 recommendations and we've implemented over 95% of them and governance was at the heart of his recommendations.
We put in place a complete new board structure, two independent directors, we introduced the Professional Game Board, the Non-professional Game Board, dismantled the committee structure and put in place the independent judicial system.
How much more change do you want in terms of governance?
GR: To look at how the SFA handled the Rangers case?
SR: And we have done. We have done that with independent legal advice at every step of the way.
On transparency and communication with Rangers
GR: Do you think the SFA have been fully transparent?
SR: We have been transparent throughout with our board, with our members. If there is documentation that the members wish to see, we have said we will make that available subject to other parties agreeing for that to be released. So yes, I think we have been very open with our members and we would be even more open if there was anything they feel has had a bearing on the decision that has been made.
GR: Would you show them the Five-way Agreement ?
SR: If the other four parties agree, absolutely.
GR: Can we expect to see all the correspondence with Rangers during the years in question?
SR: The Five-way Agreement is five parties that were involved, of which we were one. It's not for us to publish all the information, but if the other four parties are content to publish that, we would have no issue in publishing any information relating to that documentation.
GR: What about conversations with Craig Whyte or anyone at Rangers at the time leading to their administration?
SR: There is no conversation with myself and Craig Whyte that is not already out there so if anybody has got any issue with that I am happy to discuss that, in terms of the meeting I only ever met Craig Whyte once and the correspondence for that meeting has been published online.
It was basically a chance for me to meet him as the chairman of Rangers Football Club and I met him for about 20 minutes.
GR: What about your email with Ali Russell where you were essentially trying to get Rangers to agree to the press release that the SFA were saying there was no case to answer with the UEFA license?
SR: No, not at all. What you are referring to there is the duty of confidentiality that the SFA has in our licensing rules were we are not allowed to publish any licensing decision relating to any particular club without the club's consent so the conversation that we had with Ali was about the information relating to the club license.
GR: So you are saying you sent the draft press release to them exactly asking them 'are you content with this?'
SR: Because it related to club licensing and a licensing decision, which is caught by duty of confidentiality through the licensing committee rules.
GR: But this is a question of their conduct that you were looking at?
SR: No it was a licensing committee matter and therefore under club licensing regulations there is a duty of confidentiality. So we were simply sharing the release that we were intending on making to make sure it complied with duty of confidentiality.
"This is too emotive. It's about rivalry between clubs, it's about passionate fans wanting to see things happen that just unfortunately are not within our gift to make happen."

Stewart Regan
'I don't think there'll ever be true closure'
GR: Where do we go from here? Are we ever going to draw a line under all of this?
SR: Well, I think certainly there's going to be a need for communication. There's a lot of information that's come out over the weekend. We ourselves have issued a press statement today which has given a lot of reasons why we believe we are not going to undertake an independent review. So I think there's time for that communication to be absorbed and there'll be some more feedback on some of the changes that have been made to Scottish football's governance and regulations so people are actually aware of what has happened rather than calling for things into the future.
I don't think we'll ever get true closure on this matter.
This is too emotive. It's about rivalry between clubs, it's about passionate fans wanting to see things happen that just unfortunately are not within our gift to make happen.
I don't think there'll every be closure but I think we've taken this as far as we can take it.