Football Talk: Neymar's Ralston snub, Desailly's singalong
Your daily round up of what's happening across Scotland and beyond.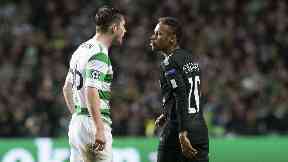 As ever, it's a quiet morning post Campions League and the dust has already settled on Celtic's opening Group B fixture.
Who are we kidding.
The Scottish champions were hammered 5-0 at home to Paris Saint-Germain in what was their worst European result at home, and the fall-out will no doubt rage on for a while.
Teenager defender Anthony Ralston learnt the hard way money doesn't buy you class as he went head-to-head with £185m superstar Neymar.
Celtic could face another punishment from UEFA after a fan ran on the pitch and attempted to kick Kylian Mbappe.
And French legend Marcel Desailly joined in the pre-match singalong at Celtic Park in a video you have to see. It's all in today's Football Talk.
Today's top stories
Champions League reaction
The best of social media
Elsewhere...
Today's back pages
ICYMI