Football Talk: Lustig's Neymar jibe, Asensio's shaved leg
Your daily round-up of what's happening across Scotland and beyond.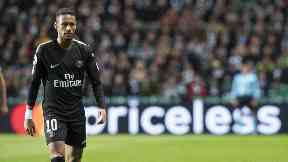 The final whistle may have long since blown and PSG's players returned to the French capital but the fallout from Celtic's 5-0 thrashing continues to rumble on.
As if the pain of defeat wasn't enough, Brendan Rodgers' side has been dealt another blow in the form of a UEFA charge after a fan invaded the pitch and aimed a kick at Kylian Mbappe.
It's not all bad news for the Scottish champions though, as midfielder Callum McGregor puts pen to paper on a new four-year deal.
The signs are also positive for the national side, with Scotland charging 15 places up the world rankings after back-to-back wins.
Elsewhere, the Champions League fixtures continued last night but the main talking point wasn't caused by any action on the pitch.
Instead, it was the news that Real Madrid star Marco Asensio was to miss his side's opener after infecting a pimple whilst shaving his legs.
The wonders of modern football...
Today's top stories
The best of social media
Today's back pages
ICYMI