Scotland jump 15 places in FIFA rankings after two wins
The victories over Lithuania and Malta have moved Scotland to 43rd in the world.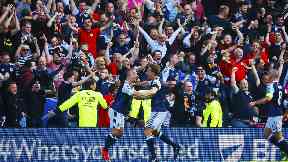 Scotland have jumped 15 places up the FIFA rankings, taking them to 43rd in the world.
Earlier this month, Gordon Strachan's men secured 3-0 and 2-0 victories over Lithuania and Malta respectively in the 2018 World Cup qualifiers.
It stretched their unbeaten run to four competitive games, something they haven't managed to do for a decade.
It is the highest FIFA ranking Scotland have enjoyed in three years. In 2014 Strachan's side hit 36th.
Scotland started 2017 in 67th position and had only moved up nine places over the eight months that followed.
The last time Scotland made such a drastic move in the table was when they dropped 16 places to 52nd in 2015. Their biggest jump in recent years was in 2013 when they moved 38 places to 34th.
Elsewhere, Germany have moved into pole position, leapfrogging Brazil, while Portugal have jumped above Argentina into third.
Wales are now the highest ranked British side, moving five places up to 13th place. England have slipped two places to 15th while Northern Ireland are up three to 20th. Republic of Ireland are down five to 34th.