No formal SFA action over Douglas Ross 'gypsy' comments
Compliance officer will not refer assistant referee and MP to a disciplinary panel.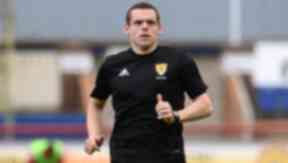 Football official and MP Douglas Ross will avoid formal action from the Scottish FA over controversial comments made in an interview.
The long-standing specialist assistant referee , who has officiated at national cup finals and matches at European and international level, is also the Conservative MP for Moray.
He was asked in an interview what he would do if he were prime minister for one day.
His answer, that he would "like to see tougher enforcement against gypsies and travellers", was brought to the attention of Scottish football's governing body.
As a professional assistant referee, Ross is subject to the same rules as players, managers and others who hold an official position within the game.
The matter was referred to the Scottish FA's compliance officer who reviewed the comments and decided there was no case for a potential rule breach to be referred to an independent disciplinary panel.
The governing body's regulations include a rule on "comments of a discriminatory or offensive nature".
However, Ross was told that he was warned that he should pay attention to his language.
A Scottish FA spokesperson said: "Mr Ross had been reminded by the Compliance Officer that he should give careful regard to the Scottish FA's disciplinary rules whilst under its jurisdiction."
In the House of Commons Register of Members' Interests, Ross declared earnings of more than £2700 for his work as an assistant referee in Scotland and Europe.
The payments included £1305 from the Scottish FA and £1436.65 from UEFA.