Fletcher desperate to end his regular Scotland heartache
The midfielder says he has suffered more agonising near-misses than most across 79 caps.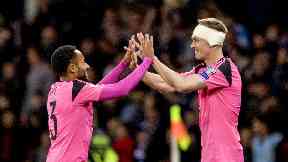 Darren Fletcher is desperate to end years of heartache in a Scotland jersey by helping the national side reach the World Cup in Russia next year.
The Scots secured a dramatic 1-0 win over Slovakia on Thursday to grab second spot in Group F.
Another victory for Gordon Strachan's men on Sunday against Slovenia will put Scotland on course to reach the play-offs for next year's finals.
Stoke City midfielder Fletcher, who stood in as captain in Scott Brown's absence, has experienced his fair share of agonising near misses across his 79 caps.
The 33-year-old is determined to ensure Sunday's must-win match follows a different script to those of previous qualification campaigns as he looks to qualify for his first major tournament.
"You have many massive games in your career and this is another," said Fletcher. "I'm probably the one who's experienced a lot more heartaches if you like and been so close in those last games that have gone against us.
"I'm not getting any younger. There's not too many chances left so it's vitally important but it means just as much to the rest of the lads as it does to me.
"It means as much to everybody, it means as much to the whole country, I'm just a small part in that."
Slovakia were reduced to 10 men on Thursday midway through the first half but defended resolutely to keep Scotland at bay.
It took until the 89th minute and a Martin Skrtel own goal for the home side to finally break the deadlock.
"Everyone expects you to just bowl them over," said Fletcher. "But you don't know whether to stick or twist.
"We wore them down... we kept passing the ball, we didn't get frustrated and it went right to the end again.
"We were so unlucky all game but it doesn't matter how you get there as long as you get there in the end."