Football Talk: Sutton blasts Strachan, Miller's return
Your daily round-up of what's happening in Scotland and beyond.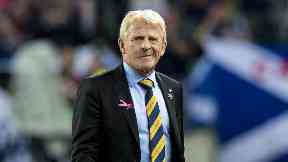 The campaign is over and now the blaming and shaming begins.
Slovenia may have landed the most devastating blow to Gordon Strachan and his players on Sunday evening but the Scotland manager has also been on the end of a couple of bruising tackles since.
Chris Sutton was among the first to pinpoint Strachan as the reason for failure to make the World Cup play-offs, saying his mistakes early in the campaign had cost the nation dearly.
Sutton accused the national team boss of stubbornness, a view echoed by fellow pundit Michael Stewart.
If these things come in threes then Strachan should keep an eye out for Stephen Craigan trying to slide tackle him to the floor some time soon.
Discussion has already turned to whether or not Strachan will, or should, stay on so what better time for David Moyes to tell the world he's been turning down job offers while waiting for another chance to manage at the elite level?
A former Scotland manager has also reappeared on the scene. Berti Vogts has said Celtic have no chance of beating Bayern Munich in the Champions League, increasing Celtic's chances of beating Bayern Munich just by saying it.
Over at Rangers, peace has broken out. Kenny Miller has apparently patched up his differences with Pedro Caixinha and played in a closed-doors friendly with Morton at the weekend.
The forward's goal showed the club could afford to let Joe Garner and Martyn Waghorn go, even if Mick McCarthy still can't believe his luck.
Top stories
Big match reaction
The back pages