Football Talk: Allardyce for Scotland? Messi faces D-day
Your daily round-up of what's happening in Scotland and beyond.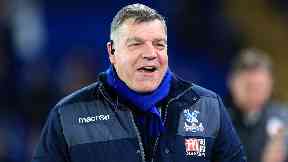 Gordon Strachan's future is still undecided but that hasn't stopped everyone from mulling over possible successors.
The Scotland manager could end his time in charge at Hampden after failing to reach Russia 2018.
Plenty of candidates have been mentioned in connection with the job but, sit down and pour yourself a pint of wine before taking this one in: 'Big' Sam Allardyce hasn't ruled out throwing his hat in the ring.
Admittedly, he didn't say he would walk to Glasgow to sign a contract either but after saying he wouldn't talk about it "on air", you can draw your own conclusions.
As the fallout from the 2-2 draw in Slovenia continues, Mark Wotte is the latest person to rubbish Strachan's genetics theory.
Meanwhile, Kieran Tierney has said the disappointment can only make Scotland's younger players better prepared in the future.
It'll be little consolation to Tierney and company but one of the best players in history might yet miss out on Russia 2018 as well.
Lionel Messi and his Argentina team-mates face Ecuador with their qualification hopes in the balance.
Not only would the greatest show on Earth be missing its biggest star but there are dire warnings of social unrest in Argentina if it all goes pear-shaped.
Elsewhere, Archie Knox has admitted his part in a sporting scandal, Andrea Pirlo has been linked with a Chelsea coaching role and Malawian match-fixers have set a new standard in stupidity.
Top stories
The back pages