Football Talk: Messi saves Argentina, USA World Cup exit
Your daily round up of what's happening across Scotland and beyond.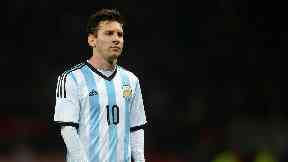 It may have ended for Scotland on Sunday but the World Cup qualification drama carried on until Tuesday night.
Europe's final places were sealed and the play-offs have started to take shape with Slovakia being confirmed as the "worst" runners-up and ultimately missing out.
Yes, Ireland, you owe Scotland for that helping hand.
Meanwhile, across the pond, the American sides concluded their respective qualifiers with USA dramatically failing to clinch their place in next summer's tournament.
Argentina pulled it out of the bag though, well, Lionel Messi did, and Panama have also booked their trip to Russia. They've even called a national holiday to celebrate.
Bad time to mention it was 20 years ago today Scotland last qualified? Yeah, thought so.
Today's top stories
The best of social media
Meanwhile, in Scotland...
Today's back pages
ICYMI